Walking, Biking, Trailblazing
April 12, 2019
ISWebmaster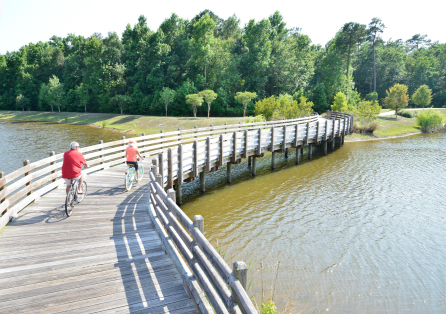 Finding a place to stretch your legs at Brunswick Forest is a simple matter, because we offer our residents over 100 miles of dedicated walking and biking trails to enjoy. These trails are great for leading an active lifestyle, and also provide residents with easy access to other parts of our community.
While many workout routines can be done at our 18,000 square-foot Fitness and Wellness Center, you also have the option of walking your own path, at your own pace. There is no other master-planned community, in the greater Wilmington area, that has a network of trails like Brunswick Forest. Each sidewalk and boardwalk have been carefully planned to give you space to walk, ride a bike and connect you to the other amenities located in Brunswick Forest. Access to so many trails and parks make walking and biking ideal for dog-owners too!
The Villages,  Cape Fear National Golf Course, Fitness and Wellness Center and the Community Commons are all easily accessible from the trails. Prominent community features such as Annsdale Park and the 4,500-acre reserve are also within easy reach. You always have a variety of locations to visit without ever having to drive anywhere. Brunswick Forest offers you the best areas to stay active and get in tune with nature. Most picturesque of all, is the wooden boardwalk that leads to the centralized 343-acre natural area at Brunswick Forest. This tranquil spot is a great place to pedal or walk to and is connected with a four-mile loop of trails.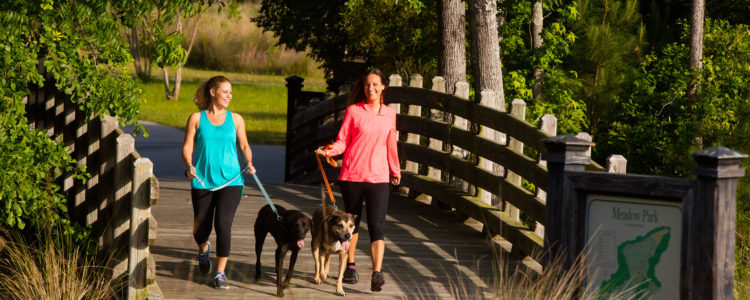 Whether you choose to be a lone trailblazer or part of an active group, the walking and biking trails at Brunswick Forest are the perfect blend of convenience and recreational enjoyment. Why not get started on your new walking routine today and challenge yourself to try a more laid-back form of fitness? Lace up those sneakers, grab the leash and don't forget to stretch, because there's a whole world out there to enjoy; explore it!