Unwined In Leland: Interview with the Burkhardts
March 16, 2023
ISWebmaster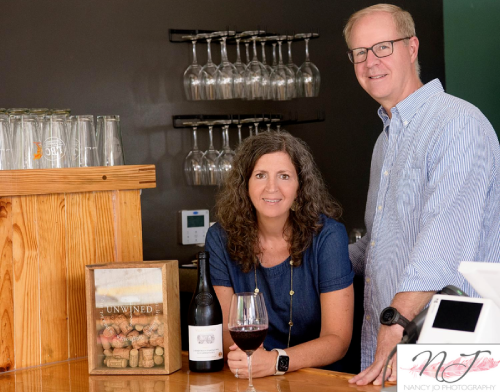 Meet the Burkhardts

As the owners of Unwined on White, a hopping yoga, beer, and wine bar in Wake Forest, NC, Amy and Brian Burkhardt were always getting advice about where to open a second location.
However, it was only when they started thinking about retirement near the beach that they decided to take the plunge and move to Brunswick Forest–opening shop in Leland's Gateway District. Why did Brunswick Forest stand out from all the other communities near the beach? They felt that Brunswick Forest's coastal by nature lifestyle was the perfect fit for their vision of an active retirement. 
"We noticed right away how active the neighborhood was as we drove through the community. There were so many folks out walking and biking, not to mention the on-site fitness amenities," the Burkhardts share. 
How Unwined Came to Be
In many ways, Brunswick Forest mirrored their business model for Unwined, combining exercise and relaxation, "We love being an easy going place to relax both physically and mentally while building community over a glass of wine or craft beer," they say. 
The Burkhardts had initially conceived of Unwined as a combo of their family's talents–Amy's knowledge of wine, Brian's passion for craft brews, and their daughter's love of yoga. 
Their first location in Wake Forest is a part of a grassroots revitalization of the historical downtown which for the Burkhardts included overseeing their building renovation as well as hosting community events and charitable fundraisers. 
Leland was an attractive town for their second location, Unwined on the Square, because it's the best of both worlds. Leland is close to Wilmington and multiple beaches while also having a downtown of its own–the Gateway District–known for its beautiful parks and Arts Center. 
Although relative newcomers to the area, the Burkhardts immediately felt at home in Brunswick Forest because of the warm community, "The people are absolutely what we love most about where we live! We have met the most wonderful friends that are fun to hang out with but are always willing to lend a hand when needed." 
Community Support
This neighborly support also extends to helping their business flourish, where residents enjoy shopping local. In addition to Unwined on the Square, the Burkhardts have continued their passion for community building outside of work, starting a wine club for residents that is still going strong today. 
The Burkhardts are also enthusiastic about spreading the good word of life at Brunswick Forest: 
"We couldn't be happier here and there's no shortage of things to do year round thanks to the milder weather. When we first moved to Brunswick Forest it felt like we were on vacation and the best part is we are here to stay." 
Check it out
For more information about life in Brunswick Forest and available properties please contact 866-832-1141 or request an appointment online. 
And if you're in town, don't forget to check out Unwined on the Square. It's a great place to enjoy a drink with friends or try a yoga workshop. Located at 2163 Britton Road, Suite 120, just minutes from Brunswick Forest, we recommend you go check it out!
Photos Courtesy of Nancy Jo Photography