Ugly Sweater Parties: The Origin
December 11, 2018
ISWebmaster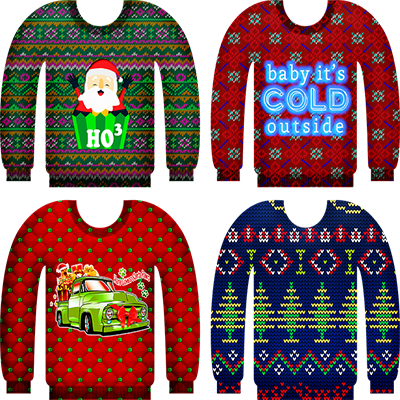 Being situated near the water, the holiday season at Brunswick Forest is very much alive and in tune with the spirit of southern living.  For one thing, it's certainly warmer and lacking in the snow department; just another one of the standard amenities that make this area wonderful this time of the year.  So, what really comes to mind when thinking of the holidays?  Stockings, candy canes, chestnuts roasting on open fires, and a visit from Santa Claus for the little ones!  But, there's one particularly loathed Christmas item that has wormed its way into many hearts, especially as of recent years; the infamous Ugly Christmas Sweater.  Once dreaded, this article of clothing has now become incredibly popular again.  But how did it all start?
To this day, it is not known who first created the Ugly Sweater, but it is estimated to have first taken shape in the 1950s, when the Christmas holiday started to become increasingly commercialized.  It is thought that Christmas sweaters were originally intended to be legitimately fashionable, and that it is only our perceptions and changes in style that deem them ugly.  The more extravagant and gaudier, the better.  The height of their popularity came to fruition in the 1980s, where TV personalities and sitcom figures would preform while wearing such apparel.  This popularized them even more! Originally known as "jingle bell sweaters", these began to be mass produced until they finally fell out of favor.  That was until recently, as new interest has sparked, and social gatherings have been created based upon them.
Enter, the Ugly Sweater party!  Believed to have started in 2002 in Vancouver, it has only become more infamous over the years.  The founders of the Vancouver party even officially coined the term "Ugly Christmas Sweater," and now dedicate the holiday ball to this day for raising money towards charitable purposes.  What originally started as a fun way to poke fun at the ridiculousness of gaudy Christmas sweaters, has now become a lighthearted gathering that has become a fun hit with many people.
Brunswick Forest is all in for this funky holiday tradition.  That's why we are holding two of our very own Ugly Sweater Parties this month:
Wear your worst and join us for a day with friends and good cheer!