Tune in to Fine Living in Wilmington: Local Music Venues
August 26, 2019
ISWebmaster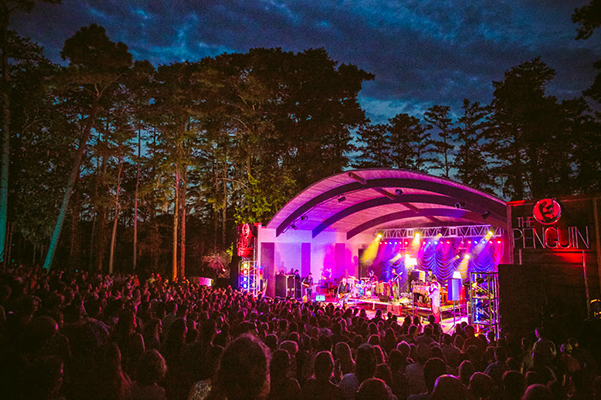 Located only minutes away from Brunswick Forest, the greater Wilmington area is rich with local culture, history, dining and entertainment. When adventuring in Wilmington, you can discover all sorts of amazing places! Among the lines in shops, cafes and galleries, you can often find a seat and listen to live music. Cover bands, jazz bands, country bands and rock bands have all been heard at one point or another in the greater Wilmington area. Wilmingtonians know that music is a creative language all its own and spectating live music is a perfect way to spend your time enjoying life, here on the Carolina coast. Next time you're thinking about a great way to enjoy quality musical entertainment, check out some of these locally recommended hot spots.
The Leland Cultural Arts Center is used for a variety of purposes, such as providing Brunswick County with a pottery studio, dance studio, gallery and of course a great stage for live musical performances. Individuals from all walks of life are welcomed into this fine community center to join rousing performances by a variety of traveling and local performers. The stage auditorium proves an ideal and comfortable area to enjoy every bit of music that is performed at the Leland Cultural Arts Center, and you can look forward shows being performed in this area year-round!
Some of the biggest shows and concerts in the Wilmington area are performed here at Cape Fear Community College's Wilson Center! One of Southeastern North Carolina's most talked about venues, The Wilson Center boasts a massive performance hall with three huge floors that wrap around the entire arena. The way this space is laid out is enough to get anyone pumped up for some of the best entertainment that you could ask for! There's an orchestral area, a grand balcony and a grand tier also present in the building. That way, guests always feel like they are intimately a part of the show. Overall, the Wilson Center offer guests a seamless experience that you will never forget. Some of the biggest names in the music world take center stage at the Wilson Center, such as Kenny G, The Four Italian Tenors, The Isley Brothers and The Gipsy Kings, just to name a few. If an incredible show is what you've been aching for, then the stage at The Wilson Center never disappoints!
When the local Wilmington scene thinks of catching live music in an open-air environment, you'll most often hear people talking about the Greenfield Lake Amphitheater! This 1,200-capacity area offers a bedazzling amount of outdoor plays, concerts and festivals, year-round. Surrounded by 180 degrees of aquatic backdrop, thanks to being set in Greenfield Lake Park, Greenfield Lake Amphitheater is one of the most atmospheric venues to host live music in the local area. Hundred-year-old Cypress trees and long leaf pines provide a wonderful and natural surrounding to enjoy your next concert. The concerts held here are general admission, so be sure to bring a friend or two to enjoy some music with you!
What's better than listening to live music from local area artists? How about listening to live music on an open-air rooftop and overlooking the gorgeous Cape Fear River? The Reel Café has been a local Wilmington hang out for many years, and it's easy to see what people are attracted to. Oysters, beer and other forms of pub grub are all here waiting for you here in downtown Wilmington. Most attractive of all, is the third-floor rooftop bar, which often features live music for people looking to enjoy their evenings in a scenic venue. With the historic Wilmington skyline and Cape Fear River in plain sight, this is a great place to watch a sunset while jamming out to some fabulous tunes.
Leland, Wilmington and the surrounding areas are the perfect setting to fulfill your desires of participating in the local music scene. With so many venues conveniently located in and around Brunswick Forest, you'll never be caught in a dull moment. Here are some more local music venues that you can visit when you're in the mood to groove: