Tribute Homes Makes Waves in Parkway Crossing at Brunswick Forest
October 10, 2017
Beth Burgee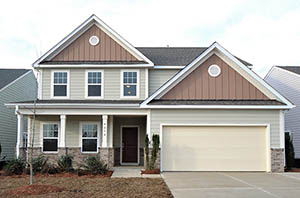 Tribute Homes, a Division of True Homes, the 39th largest builder in the United States and the largest private builder in the Carolinas, is making waves in a new neighborhood in Brunswick Forest.
"Tribute Homes is able to think outside of the box and deliver a new product to fit a growing niche of clients we are seeing at Brunswick Forest," says Jerry Helms, Director of Sales for the award-winning master plan community.  "More and more these days, we connect with folks that are looking to downsize their homes without losing the finer features and finishes in the home.  They want to enjoy their life to the fullest and not worry about all of the overhead that comes with a large home.  Parkway Crossing is the answer they've been looking for."
Parkway Crossing launched in the summer of 2016 to rave reviews from all that visited the new neighborhood and just a year later Tribute is delivering the second phase of this neighborhood with new floor plans and price points.  They have been able to maintain their "All About You" approach while offering homes with great fit and finishes from the $200s.  Check out their newest plan The Owen — available for purchase TODAY!
"It's easy to see why Tribute has been successful and why they will continue to make waves with each new plan they bring on in the Parkway Crossing neighborhood.  It's great having them as a integral part of our preferred builder team," remarked Helms.
Learn more here about Tribute Homes and their other contributions within Brunswick Forest.
www.brunswickforest.com
888.371.2434