Transitioning Into Your Coastal by Nature Lifestyle
May 23, 2018
Beth Burgee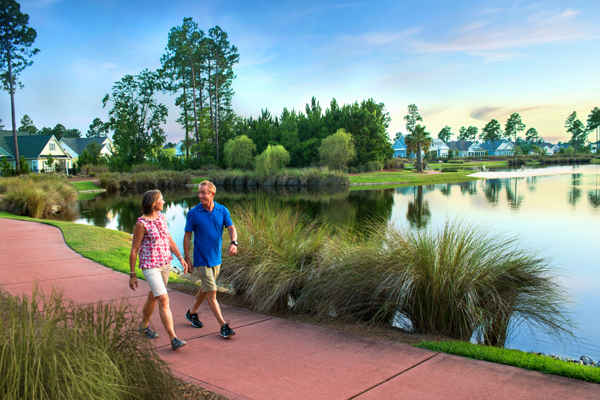 Looking to relocate to Brunswick Forest, but unsure of where to begin? Our team is here to help!
The reality of relocating can be a bit overwhelming at first. The idea of packing up your belongings, selling your home and moving to an entirely different location is much easier said than done. While the moving process can be challenging, laborious and stressful at times; our job here at Brunswick Forest is to help guide you through the transitional period and make your move as smooth and straightforward as possible.
Providing us with some helpful relocation info, our Sales Agent, Brian Galeucia, gives us the rundown on a few things that may be helpful as you transition into living our Coastal by Nature lifestyle in Brunswick Forest.
Let's take a look at what type of information is provided in Brian's packet!
Getting Started
Providing you with a list of local attorneys, lenders and insurance companies; this info sheet has all the contact information you'll need as you start your research on investing in a Brunswick Forest home.
Getting Everything Set Up
Now that you're in your Brunswick Forest home, you've got to get everything set up! We make that process a breeze with a concise list of utility information for residents. You will find the contact information for your electric, water, sewer, natural gas, trash & recycling all in one place. Also included in this pamphlet is information for propane companies, telephone/cable/internet providers, local DMV offices and additional sites that offer relocation information.
"Where is the….?"
North Brunswick Magazine is a great resource for new home owners and folks new to the area. Providing a comprehensive list of "Numbers & Info" for everything from the post office, to the library and town hall, this all-inclusive breakdown is a great sheet to keep nearby as you get acquainted to living in Brunswick County.
Wilmington's Official Guide Book
We've got you covered when it comes to getting familiar with the local area. The Wilmington Guide Book provides a thorough overview of our general area and includes a couple useful maps to keep handy while you're getting familiar with the Wilmington area. Use this booklet as a resource for self-guided walking tours of Downtown Wilmington's attractions, architecture and historic sites. In addition to the guide map of downtown, this book covers popular sites and attractions in Wrightsville Beach, Carolina Beach, Kure Beach and Fort Fisher as well.
Let's Get Social
Now that you've moved in and are learning your way around the Leland and Wilmington area, you're probably wondering where the local "hotspots" are around town. Once again, we've got you covered! Brian provides a list of websites that breakdown the best food & beverage spots in the area as well as a list of websites that showcase upcoming events & happenings in the local community.
Interested in the performing arts and cinema scene? We have a list of all the major venues to keep on your radar. Whether you're revelling in one of the many events hosted at the historic Thalian Hall in downtown Wilmington, dancing the night away with live music at Greenfield Lake Ampitheater, or enjoying a night of laughs at Dead Crow Comedy Room, Wilmington's nightlife will not disappoint!
While this list comprises a few of the informational pieces we provide to new homeowners, our agents also take the time to go over all of your questions and concerns with you at each step along the way. We hope to make your transition to Brunswick Forest as easy and stress-free as possible! Stop in to our Welcome Center to chat with one of our agents to see how they can advise you in your relocation process.
866-831-8289