Tons of Flavor with Little Hassle: Easy Summer Recipes
June 29, 2020
ISWebmaster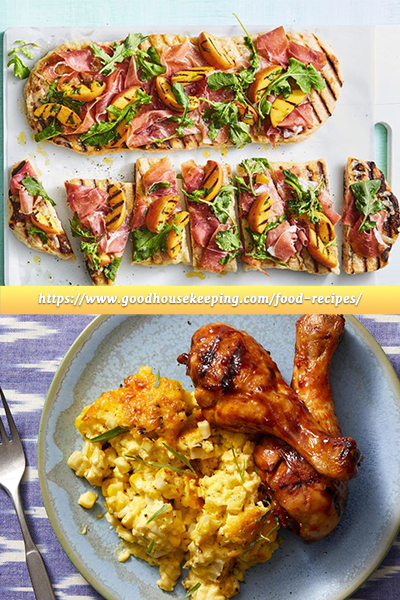 Whatever the season or time of year, a good meal can make any moment a special one. While you might be used to curbside orders and to-go from your favorite establishments in the Wilmington area as of late, don't forget there's a lot of tasty options that you can make in your own home! A culinary piece does not have to be overly complex or contain a lot of ingredients to be memorable. And with stores like Lowes Foods nearby in The Villages at Brunswick Forest, you're never far from the ingredients you need for you culinary creations.
Brunswick Forest, being close to the Cape Fear River and several beautiful beaches, is all about enjoying summer fun and getting you into your comfort zone. Here are some easy recipes that you can enjoy:
Peach and Prosciutto Flatbread:
You do not need to be from Naples or have a coal-fired brick oven to makes this delectable taste wood fired; All you need is a grill! Here is what you will need for this perfect blend of sweet and salty treat:
One pound of pizza dough
Three peaches or nectarines pitted and sliced into wedges
One tablespoon olive oil
Kosher salt and pepper
Two tablespoons lemon juice
Two tablespoons chopped tarragon
Three ounces Gruyere cheese, grated
Two cups of baby arugula
Four ounces of thin sliced prosciutto
First, heat your grill to a medium heat level. Divide the pizza dough in half and shape each piece into a 5 x 14-inch rectangle. Toss the peaches together with oil and add ¼ teaspoons of salt and pepper. Grill the dough and peaches until they are both lightly charred, make sure to allow for three to five minutes per side. Transfer the peaches to a large bowl and the pizza dough onto a cutting board. Marinate those lovely peaches with lemon juice, tarragon, and pinch each with salt and pepper. Sprinkle the cheese over the dough and grill again covered for two to three minutes until melted. Add the arugula to the peaches and top the dough with prosciutto and enjoy!
Barbecued Chicken with Roasted Corn Pudding:
Perfect for those warm summer evenings outdoors, this dish will give you all the flavors of the season in an easy dish that does not require you to be a grilling master. Here is what you will need to bring this dish to life:
Eight ears of fresh corn, shucked
One tablespoon of olive oil
One small onion, chopped
Kosher salt
Two cups of heavy cream
One large egg
One large egg yolk
Two tablespoons of tarragon, chopped, plus leaves for topping
Eight small chicken legs, split
One half cup of prepared barbecue sauce
First, you are going to heat the grill on high and heat your oven to 400°F. Grill four ears of corn until charred on all sides, grilling for about five minutes in total. Transfer the corn to a cutting board once finished. Be sure to reduce your grill to medium heat for the time being. Proceed to cut charred kernels off cobs and set aside for later use, this should make about two cups. Cut the kernels off remaining four ears corn, this will make for about 2 1/2 cups. Begin to heat the olive oil in medium saucepan on medium. Add onion, raw kernels, and 1/2 teaspoon salt and cook, stirring occasionally until tender for about 5 minutes. Add in the heavy cream, bring it to a boil, then lower the heat and simmer until the cream is reduced by one-third and mixture has thickened. This should take about 15 minutes.
Using a blender, begin to puree the corn mixture until it is mostly smooth in consistency. Then, with the blender running, add in egg and yolk, and blend together. Fold in charred corn and tarragon, then transfer to shallow two-quart or nine-inch-square baking dish. Bake until pudding is set, and the top is beginning to brown nicely. This will take about 15 to 20 minutes. Sprinkle the baked mixture with tarragon leaves. In the meantime, begin seasoning the chicken with ½ a teaspoon each with salt and pepper. Then, put those birds on the grill and keep them covered while turning them occasionally every 18 minutes. Uncover and continue grilling, basting with your favorite barbecue sauce as you go. Give it another few minutes until the chicken is cooked through.
Whatever your plans are at Brunswick Forest for summer fun, try these recipes out for a taste sensation that's easy and delicious.