TIPS FOR BUILDING AN ENERGY EFFICIENT HOME WITH PLANTATION BUILDING CORP.
May 9, 2015
Brunswick Forest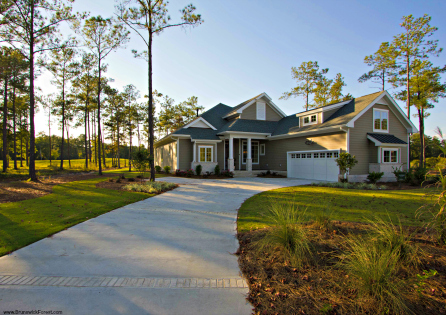 Plantation Building Corporation, one of Brunswick Forest's preferred home builders, offers some tips of the trade that they use to create homes that are not just beautiful, but also extremely energy efficient.
USE TANKLESS HOT WATER HEATERS
According to David Spetrino, President of Plantation Building Corporation, using a tankless water heater is one of the main things you can do to create a more energy efficient home. "Much like a refrigerator, the traditional hot water heater tank is also always 'on,' making it one of the most active users of energy in a home," says Spetrino.
Because residents within Brunswick Forest have access to natural gas, Plantation Building Corporation is able to install tankless water heaters in most of the homes they build in the community. "Providing hot water on demand means we are only heating the water we need, and only when we need it. We specifically use Navien water heaters as they come equipped with a built-in learning recirculating pump which anticipates the daily usage pattern for home owners and provides for hot water almost instantly throughout the house," says Septrino."
INSTALL FOIL-BACKED RADIANT BARRIER ROOF SHEATHING
Plantation Building Corporation also installs foil-backed radiant barrier roof sheathing in all Brunswick Forest homes. Because heat gain within a home comes through the roof, it is a good practice to install the sheathing to help decrease attic temperatures—sometimes up to 30%. "This allows your HVAC system to exert less effort which not only reduces energy costs, but extends the life of the equipment," says Spetrino."
USE LEARNING THERMOSTATS
Learning thermostats come standard in every Plantation Building Corporation home. "They provide for better comfort, less energy usage and an instant savings in your heating and cooling bills," says Spetrino. "We have been installing the Nest thermostat since 2013 and have recently began adding the Ecobee 3 in some of our larger homes as they include a remote temperature sensor which helps provide additional comfort to those rooms further from the actual thermostat." Learning thermostats quickly gauge your comfort preferences and work to optimize cost savings. They also have the option of connecting the system to WiFi which enables it to have access to weather forecasts and be able to anticipate outside temperature changes that will impact the home's internal climate. Learning thermostats can also be accessed via smartphones so homeowners can adjust the temperature of their home remotely.
Learn more about Brunswick's Forest's wide selection of energy-efficient homes on our website and contact us today to find out how to visit the community.
888.371.2434
www.BrunswickForest.com