THERE'S NO PLACE LIKE OM: BRUNSWICK FOREST RESIDENTS TRY OUT A NEW WAY TO PRACTICE YOGA
August 16, 2014
Brunswick Forest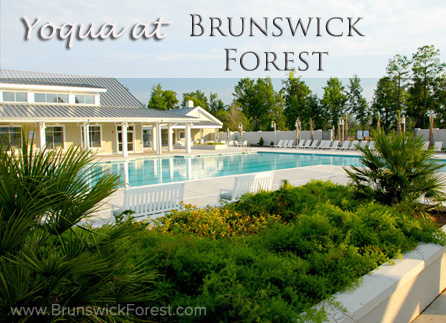 A MODERN TWIST ON AN ANCIENT PRACTICE
Brunswick Forest's Fitness and Wellness Center is offering a unique specialty class later this month that is perfect for avid yoga enthusiasts or beginner yogis. This "Yoqua" class will feature a form of yoga that can be practiced in water. "It's a nice way to learn how to do yoga," says Robin Bell, Brunswick Forest's Fitness and Wellness Center Coordinator. "It's perfect for individuals who can't do yoga in a class environment."
A FOCUS ON TRADITIONAL YOGA FUNDAMENTALS
Residents will be able to learn proper breath techniques and posture alignment while doing traditional yoga poses that have been adapted to be practiced in the water. Bells says there will be a lot of focus on core strength and balance but relaxation is main goal of the class.
The Fitness and Wellness Center's Group Fitness Instructor, Joan Miller will teach the Yoqua classes which will be held Tuesdays and Thursdays from 9:30 a.m. to 10:15 a.m. Aug. 19, 21, 26, and 28 in the outdoor pool.
For more information about the classes, please contact the Fitness and Wellness Center directly at 910.342.2215.
888.371.2434
www.BrunswickForest.com