THE YOGA PROGRAM AT BRUNSWICK FOREST
June 10, 2016
Brunswick Forest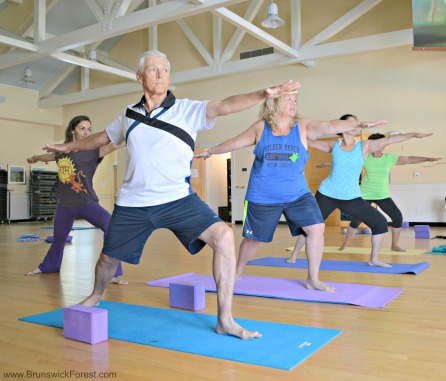 Brunswick Forest's Fitness and Wellness Center has expanded its yoga program and now offers multiple yoga classes to suit different styles and different levels of practitioners. Choose from the style and ability level that best suits your practice from the variety of classes offered.
YIN YOGA
Yin Yoga emphasizes stretching and movements to complement the "yang" style of yoga that is the contracting of muscles in what is considered "normal" yoga poses. Yin Yoga targets the connective tissues of the hips, pelvis and lower spin and poses are held for long periods of time to build flexibility.
GENTLE YOGA
The Gentle Yoga classes at Brunswick Forest are suitable for all levels of practitioners. Reduce stress levels, stretch muscles and limbs while calming the mind. Gentle Yoga emphasizes basic postures to help improve balance and flexibility.
ADAPTIVE YOGA
Adaptive Yoga is perfect for anyone dealing with a physical disability including impaired mobility, balance issues, arthritis, paralysis, multiple sclerosis or any injuries. During the class, the teacher will adapt traditional yoga poses to suit each individual's level of fitness or ability.
FORREST YOGA
The Forrest Yoga classes at Brunswick Forest offer breath training, and the use of breath to connect with one's core. Each pose is held for a long period of time which helps to awaken the senses. Practitioners are encouraged to adapt poses to best suit their level of ability. The aim of the class to create a sense of freedom and a connection and confidence in one's spirit.
YOGA ON THE LAWN
Head to Cape Fear National for outdoor yoga classes held on the lawn overlooking the 9th green. Be prepared to awaken your body, mind and soul during these early-morning special yoga sessions.
POWER YOGA
Perfect for intermediate or advanced level practitioners, Power Yoga is faster-spaced and more rigorous than traditional yoga. Build strength, flexibility, balance and cardiovascular health in each classes.
Click here for a full listing of yoga classes at the Brunswick Forest Fitness Center.
888.371.2434
www.BrunswickForest.com