THE WOODLANDS AT MEADOW PARK
October 23, 2014
Brunswick Forest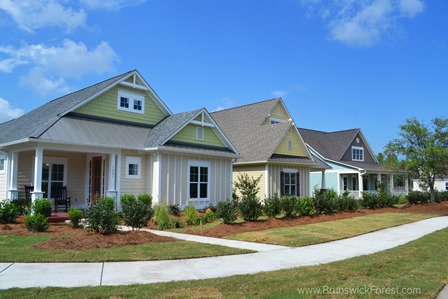 Front porch coastal living is easily found in Brunswick Forest's newest neighborhood, The Woodlands at Meadow Park. A colorful and charming streetscape instantly catches your eye in The Woodlands offering a perfect combination of home choices and price ranges.
Logan Homes, one of Brunswick Forest's preferred builders is the company behind this lovely coastal inspired neighborhood. Each street is lined with homes that complement the overall breezy and colorful bungalow style. A green space in the heart of the neighborhood also allows for friendly gatherings around the handsome outdoor fireplace.
The Woodlands at Meadow Park offers an array of floor plan options and design choices each accented with a touch of coastal flare like partial metal roofs and eye-catching curb appeal.
Learn more about The Woodlands at Meadow Park here.
888-371-2434
www.BrunswickForest.com