The Villages at Brunswick Forest: More Than Just a Town Center
September 21, 2021
ISWebmaster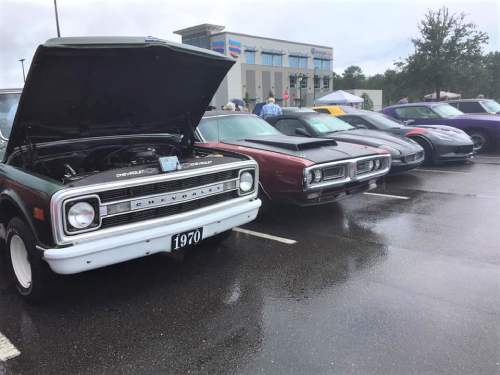 The Villages Town Center at Brunswick Forest is 500,000 square feet of shops, restaurants, and medical facilities that serve just about every need for Brunswick Forest residents. But what you may not know, is that The Villages is more than just another town center. From car shows to Christmas Trees, there's a lot of special events that make use of the space here.
A town center should be an area that benefits an entire community in a variety of ways. This can include the sheer number of services that are offered, or in having extra space for special events. Here are some events that our town center has been known for.
Under the Lights Auto Show:
Many residents in Brunswick Forest are classic car enthusiasts. The greater Wilmington area has an entire host of well-known car clubs and its local 'cars and coffee' meets, which attract hundreds of gear heads. In past years, Brunswick Forest has used the sizeable parking spaces of The Villages Town Center to hold a classic car show of our own. Residents and visitors come from all over Brunswick and New Hanover County to show off their wheels. Some vehicles are custom-made rat rods, others are well-known classics, and some showings are ones that you might not have seen before. Be it Ford, Plymouth, Chevrolet, Dodge, or European import, this show has had it all. It's always a great time to watch so many enthusiasts in our community bond over a common hobby, and it's a great way to make new friends if you're new to the area.
Christmas Tree Farm:
Few things say "seasonal atmosphere" like walking into a Christmas Tree farm. The sweet smell of Frasier Fir puts you in a jolly mood towards the end of the year. The Villages has acted as a convenient area for local tree farmers to bring their goods to market in previous years. If residents ever wanted to find the perfect tree for the season, they don't have to look any further than their front doors.
Leland First Response Display:
Brunswick County is filled with incredible fire, police, and EMS services. But sometimes we don't think of the incredible tools and machines they are trained to use to make sure they can get the job done. The Villages has been a proud location where local first responders have brought their trucks, off-road vehicles, and even helicopters to teach kids and adults how important these amazing vehicles are to keeping our communities safe.
The Villages has had its share of yearly events that make it an easy access hotspot for local activities in Leland and the surrounding locale.
Here are a few other events that The Villages Town Center has hosted over the years:
Weekly Live Music at The Joyce and Shuckin' Shack.
Merry Go Run Charity Race
Business After Hours
Dance Sessions and Community Activities at Cutlar Community Center
Charity Drop Boxes