The Villages at Brunswick Forest
January 13, 2019
ISWebmaster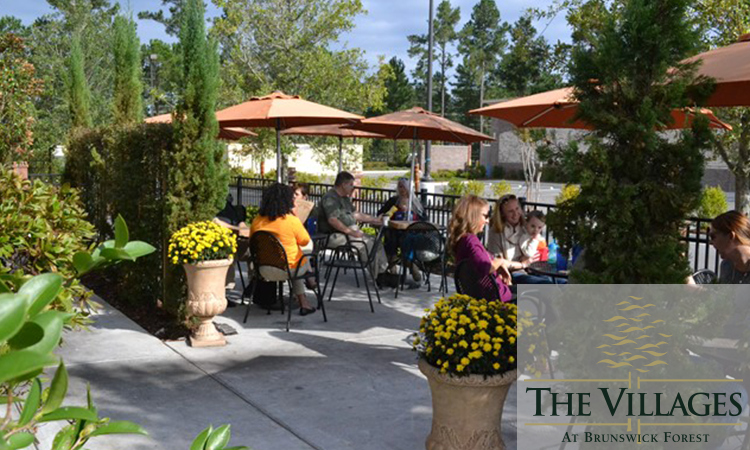 When it comes to amenities, few compare to what we offer at Brunswick Forest.  Not only is there a wealth of activities to be had inside our community, but outside the community as well.  With its location just inside the town of Leland and not far from Downtown Wilmington, Brunswick Forest has easy access to some of the best shopping and dining in the Southeast.  For those that are in the mood to keep things as close to home as possible, Brunswick Forest has you covered with a wealth of great shopping and dining located just inside our entrance!
The Villages is a 160-acre lot with everything residents could possibly ask for.  More than 500,000 square feet of retail, shopping, dining, services, and much more.  We're certainly not against venturing out and doing a little local exploring by any means. The Villages is the perfect midway point for taking care of any errands you might have or any immediate dining plans without the stress of driving all over the place.
In some of the other planned communities, you may need to drive to town for what you need.  Brunswick Forest offers the convenience of a town right here at your doorstep!  On a beautiful Southern day, as we're used to having around these parts, you don't even need to drive at all if you're feeling a bit more active.  Easily accessible by gliding along our signature walking and biking trails, it's possible to take care of any business that you need at The Villages without ever truly leaving the neighborhood!
Health and wellness are a critical part of any good life, which is why there's plenty of value to be found in our Fitness and Wellness Center.  However, should you ever need the best in professional medical care, The Villages has just what you need with New Hanover Regional Medical Center's 40,000-square-foot facility.  This state-of-the-art location is right in the heart of all the action, ensuring that great medical care is close by when you need it most.  Imagine having any tests or physical care being done essentially within walking distance of your home.  Access to a regional medical center for an even higher level of care is also easily accessible from this area.
The Villages has no shortage of other well-known medical care providers in the area, including EmergeOrtho which will become one of the biggest providers of Orthopedic care in the area. One of their newest facilities is currently under construction and will provides some of the absolute best orthopedic care in area. Their location is close by to many local neighborhoods ensuring that your active lifestyle at Brunswick Forest will stay active for longer!
Don't forget our furry friends! Dogs and cats can be like family to us too, that's why there's plenty of care close by for them as well.  Brunswick Forest Veterinary Hospital ensures that your beloved animal companion will always be there to enjoy an active healthy lifestyle of their own for years to come!
From farm to table, the freshest produce for your home is never very far away.  An extensive and well-stocked Lowes Foods is the central focal point here at The Villages.  With everything from farm-fresh local produce to pet food, medicine, wine & beer, and anything that you might feel you need.  If the household stock is running low, you can always fill up at Lowes right down the road.
Pop your peepers and keep your vision in check with Swell Vision or grab the perfect fitting pair of trendy footwear at The Shoe Center.
And when a productive day of shopping and self-care starts winding down to a close, you don't even have to think about what you're going to have for dinner!  Great dining with reasonable prices isn't far away from where the shopping ends!  Relax in a cozy tavern atmosphere with cold beer and deliciously rich table fare at The Joyce Irish Pub or grab a hot slice of magnificence at Pizzetta's Pizzeria.  Either way, you'll be more than satisfied for whatever occasion you have in mind! In the mood for seafood?  Shuckin Shack offers all your favorites.
Brunswick Forest is all about convenience of location and providing you with a better standard of living.  That's why The Villages is such a valued part of the community that we have here. From groceries, dining, to special events held right on-site our Village is one that we love to share with everyone! For a full list of all the services provided be sure to learn more at The Villages.