The History of Halloween
October 30, 2019
ISWebmaster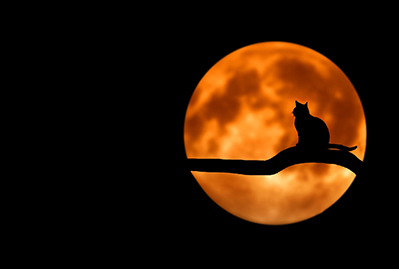 Halloween is one of those times of year, where people both young and old can unleash their imagination and have some fun! Colorful costumes, wild ideas, parties, candy and a night of adventure have long been associated with Halloween. The United States has a special attraction to Halloween, with a truly frightening total of $9 billion spent on the holiday last year. $2.9 billion alone is spent on the candy that was given out to eager trick-or-treaters! The mild weather in Southeastern NC makes celebrating Halloween easy. Brunswick Forest will naturally be buzzing with ghoulish activity. Some residents will be entertaining guests while others are escorting trick-or-treaters or handing out candy.
You might be surprised to know that Halloween has changed greatly over the years, evolving from something that was more mystical in nature, to an event that's more playful and lighthearted. How exactly did Halloween originate, anyway?
The origins of Halloween begin in ancient times with the Celts, who dwelled in what is now modern-day Ireland and Great Britain. The Celts originally called this holiday "Samhain," and were very superstitious. Celtic Druids believed that on the evening of October 31st until sunset of the following day, the barrier between the world of the living and dead became weakened. As a result of this, the dead would come back and spend time amongst the living. Magic was thought to be more powerful on this evening, and ghosts would freely wander the land.
Once the Celtic tribes were by the Roman Empire, "Samhain" was revised into "All Souls Day." Several traditions, such as costume wearing and bonfires, were carried over from the old Celtic traditions. Over time this day became known as "All Hallows Eve," and eventually the holiday became modernized in the Western world as "Halloween."
Because of its supernatural origins, there was a period where celebrating Halloween was considered very taboo in the United States. Puritans who inhabited the American colonies abhorred the idea, and most of them rejected it. It wasn't until the immigration of Irish and Scottish Immigrants that Halloween became more accepted. The 19th century was when the Halloween that we know began to take shape. Those celebrating the holiday would go to homes asking for money or food, which slowly created the idea of "trick-or-treating." Telling ghost stories, playing pranks and causing mischief also became early Halloween traditions. Even though the act of celebrating Halloween began to be more common, there were still many conflicts between religious faithful who wished to denounce Halloween's Pagan origins. Over time, Halloween became a popular holiday that can be enjoyed by people both young and old.
Regardless of its rocky start, Halloween is here to stay. Brunswick Forest wishes you a safe and happy Halloween, regardless of how you decide to celebrate it! There's also plenty of Halloween happenings taking place around the Wilmington area during and after October 31st. Here are just a few that you can go and check out!
Halloween Celebration at ARRIVE
When: October 31st 5:30 – 8:30pm
Where: ARRIVE Wilmington, 101 South 2nd
Price: Free to attend
Here's a great time that will wake the dead! Retro DJ Duo, The Beehive Blondes will be returning to the ARRIVE hotel in downtown Wilmington to play some groovy tunes. Stop by the outdoor gazebo bar for some drinks, snacks and fun while enjoying the outdoor atmosphere.
Halloween Party at Flytrap Brewing
When: October 31st 7 – 10pm
Where: Flytrap Brewing, 319 Walnut St.
Price: Free to attend
A drink a day keeps the ghouls away! You don't want to miss this fun time at one of downtown Wilmington's most well-known breweries. Beats & Coffee will be performing live music for your entertainment, and there will also be a Halloween costume contest!
Halloween Art Explorer Thursdays
When: October 31st 10am – 12pm
Where: Cameron Art Museum, 3201 South Front Street.
Price: Suggested donation of $5 per family
Here's a fun event for families with children looking for Halloween fun with a little art mixed in! Art Explorer Thursdays will be hosting two featured stories for Halloween, Halloween crafts and a costume parade! Make sure the little ones have their trick-or-treat bags handy, because candy will be included.
When: November 2nd 12pm -2pm
Where: Unleashed on Front Street, 2 South Front St.
Price: Free to attend
If you have a special furry friend who likes to get dressed up, then this event is for you! Unleashed on Front Street will be hosting a pet themed Halloween gathering that includes costume contests, door prizes and a trick-or-treat buffet. Best of all, it's totally free!
Happy Hallo-wine! Enjoy a hair-raising good time over at Bridgewater Wines in Leland, just minutes away from Brunswick Forest. Enjoy a full-on Halloween party complete with drink specials, door prizes and even a costume contest! It's a great time that will have you howling for more.
Halloween Night Masquerade Ball
When: October 31st 6-9pm
Where: WWAY TV, 1224 Magnolia Village Way, Leland, NC
Ring in the evening with a ghoulish good time at this fantastic Halloween Masquerade. With dinner provided by Chaney's catering, a cash bar and specialty cocktails provided by Mister Bartender, you're sure to make the most of your Halloween! There will be entertainment provided by DJ Riz and Sherri So Veri, with proceeds going to local Leland charity daretocare4children.com. It's $25 for advance tickets which includes two drinks and a dinner buffet. This is a good time that you don't want to miss out on.