THE GROWTH OF PICKLEBALL CONTINUES
January 16, 2017
Katie McAlick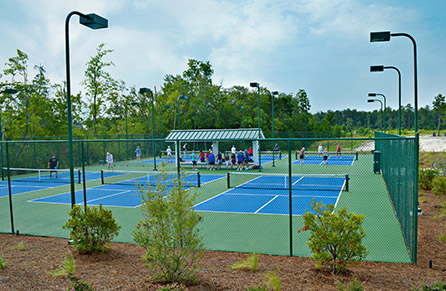 As more and more residents in the Leland area pick up the unique sport of pickleball, its popularity continues to call for more clinics and tournaments! If you have not yet tried the sensational sport that is rocking the Southeast, try signing up for a lesson with Brunswick Forest Pickleball Paddles group. Whether you're just starting out or you're a long-time player, the Brunswick Forest Pickleball Club and the BF Pickleball Paddles group are here to help!
TOURNAMENTS AND COMPETITIVE PLAY
For those of you with a strong competitive spirit, there is plenty of pickleball to go around! Residents throughout Brunswick Forest are always getting together for friendly, competitive play on the court. Be sure to check out the schedule for the Brunswick Forest Pickleball Club to get involved! If you're looking to join a tournament, be sure to register as a member on the club's website! The Leland area has already hosted a number of tournaments with over a hundred players participating in each, so make plans to join the fun!
PLAY ANYWHERE, ANYTIME
With ten courts in Brunswick Forest alone—four at the Fitness and Wellness Center and six at Cape Fear National—playing anywhere at anytime is easy! If you want to try out a new place to play, try the Dinah E. Gore Fitness Center at Brunswick Community College or Town Creek Park in Winnabow, NC.
888.371.2434