The Cape Fear Festival of Trees
December 13, 2021
ISWebmaster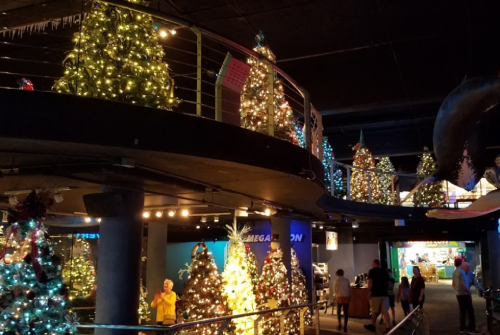 A Bit of History
Wilmington is a city of tradition, and a lot of the surrounding area follows suit. Concepts like family and hospitality are as old as the seashore itself. This is especially apparent during the holidays. Cape Fear Festival of Trees, which has been running since the 1980s, is back and bigger than ever. All the proceeds will go towards helping Lower Cape Fear Lifecare. Brighten your holiday by visiting this beautiful tree display and supporting a great cause!
Originally held downtown at the Hilton (now Ballast) hotel, the Festival of Trees has long since outgrown its original venue and is now hosted in the North Carolina Aquarium at Fort Fisher.
What It's About
Situated inside a state-of-the-art aquarium filled with marine life of all kinds, the Festival of Trees is like a coastal Christmas storybook come to life. The Festival of Trees captures that magic by creating an event dedicated to the warmth of the holiday season through Christmas trees. Each year, a tree is sponsored by a business here in the Wilmington area, who then helps to decorate it with a wide variety of ornaments. Often, these trees can get very creative and display decorations that reflect the brand of that's sponsor. Many aspiring tree-trimmers will go to the Festival of Trees just to get ideas of their own. There will be raffles and gingerbread houses on display. It's a special double feature, with beautiful Christmas trees and amazing aquatic exhibits in the same building!
Charity
Best of all, the Festival of Trees always gives back to the community with annual charity. Lower Cape Fear Life Care (formerly Lower Cape Fear Hospice) plays a big part in helping family members in getting the medical assistance they deserve in the most crucial parts of their lives. Donations can go a long way for a non-profit organization. So, when you visit the Festival of Trees this year you can be confident that each ticket sold goes right back to those in need.
If you're looking to get into the Christmas spirit, we at Brunswick Forest highly recommend the Festival of Trees! It's fun for all ages and is a great way to spend time with those close to you. Kids and grandchildren especially enjoy being around so many brightly lit trees. The event takes place daily from 9 am – 5 pm, November 26th – January 3rd. Admission tickets must be purchased ahead of time for the aquarium, and the Festival of Trees is included in those tickets.