The Blue Heron Model Makes a Splash!
December 8, 2021
ISWebmaster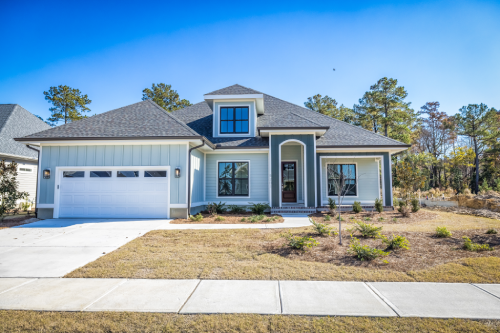 Fortunately for aspiring homebuyers seeking to build or purchase in Brunswick Forest, there are countless beautiful and unique floorplans to choose from. Built by Bell Custom Homes this three-bed, four-bath masterpiece is the definition of a coastal dream home.
Bell Custom Homes has chosen to build The Blue Heron model at 5201 Barcroft Lake Drive, in The Lakes neighborhood of Brunswick Forest. With its handsome looks, modern features, and interior detailing, it certainly fits right in with the West Indies theme of The Lakes.
Exterior Features
The exterior of this home is breathtaking, featuring a high-sweeping, archway entrance, light blue Hardie Board paneling, brick steps, and a spacious front porch for basking in the Carolina sun. The fully landscaped yard features several attractive shrubs and bushes. Native Southern classics such as Crepe Myrtles and Magnolias also dot the yard, complementing the home nicely. When you first step inside this brand-new build, you know you're in for an amazing experience.
Quick Details
Here are a few quick details regarding The Blue Heron:
Price: $692,500
Situated on: Lot 37
3,180 square-feet
Two-car garage
26 acres of land
MLS #: 100296007
Interior Features
One of the first features you're going to notice about The Blue Heron is the number of large windows featured. This allows natural light to saturate just about every main room in the home, helping to save energy and create a welcoming environment. With electric-based heating and central cooling, this home will keep you comfortable year-round. Upon entry, you will also notice a very open floor plan, like a lot of our featured model homes. The Blue Heron takes interior design one step further by offering many luxuries, such as a fireplace, built-in shelving, rich wood flooring, plush carpeting, and high wood-beamed ceilings for a lofty atmosphere.
The kitchen is first-rate with gorgeous tile backsplash that's as easy to clean as it is attractive. Wood cabinets line the main cooking areas, matching the floors and allowing for ample storage of pots, pans, glasses, and dishes. Beautiful rustic wooden doors with iron accenting leads to a sizeable pantry with inlaid shelving. Expect to find high-class appliances for all your cooking and cleaning needs here, including disposal, dishwasher, convection oven, fridge, and built-in microwave. A gas-powered stove completes the main granite countertop. The dining room connected to this marvelous kitchen is large enough to seat multiple people. That makes The Blue Heron an ideal home for hosting friends and family events.
As far as master suites go, the one offered in The Blue Heron is a step beyond your average model home. The room is simply massive and located in the far corner of the floorplan to offer plenty of privacy. A trey ceiling hangs above this wonderful space, and a black metal fan allows for easy air circulation. If you thought you've seen it all when it comes to spa-styled walk-in bathrooms, think again. The Blue Heron is a home that redefines luxury. A brown tile floor leads to a glass cubicle shower and dark granite countertops with double sinks. The same stylish black metal theme used throughout the home can be found in the bath area as well. Last but not least, there is ample storage for convenience.
In the rear of the house, there's a screened-in porch that can fit plenty of outdoor furniture, complete with a fan for increased air circulation when it gets warm outside.
One Amazing Model
Ultimately, The Blue Heron is more than just a stately looking home, it's an ideal personal paradise for your coastal Carolina lifestyle. Do you want to see this gorgeous model in person? Be sure to come on down and experience Brunswick Forest for yourself using our Coastal Discovery Tour. Or you can contact our team for more information on this home at 833-497-1001.