Thanksgiving, here we come!!
November 2, 2017
Beth Burgee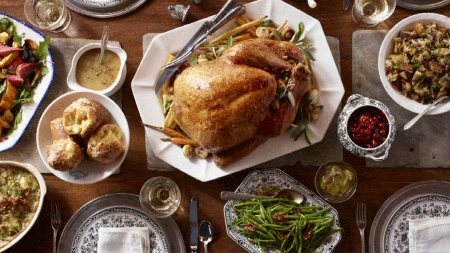 Breakout your recipe cards, cookbooks and Emily Post Etiquette book…it's time to start planning for Thanksgiving!  It's hard to believe that Thanksgiving is just around the corner and your friends and family will be piling in for the spread.  Not to worry!  Brunswick Forest has a quick guide to mastering Thanksgiving effortlessly.  Check out our Tips & Tricks, Tried-and-True Recipes and Beautiful Tablescapes:
Make your Thanksgiving a breeze with these Tips & Tricks:
Cleanse – A week prior to Thanksgiving purge your refrigerator, cabinets and pantry of unnecessary items.  Make room for all the essentials you will be purchasing, plus the leftovers from the Thanksgiving feast.  If you still don't have enough room, a cooler makes a fantastic alternative refrigerator with just a few ice packs.
Don't only cook on Thanksgiving – A lot of your Thanksgiving Day spread can be made before the big day.  Prep your pie dough, bake your cakes, make your cranberry sauce and even make most of your sides all before Thanksgiving.  This will eliminate fighting for oven or stove-top space!
Be resourceful…

Breakout your crockpot to alleviate some of your stovetop duties.
In the weeks leading up to Thanksgiving, save your plastic takeout trays.  They are perfect to send leftovers home with guests.
Use your dishwasher as a veggie scrubber, run a short cycle with no cleaner on potatoes, carrots and other hearty vegetables.
Follow these Simple, but Impressive Recipes that will wow your guests:
Our Favorite Tablescapes:
Keep It Simple – Let whites with speak volumes when partnered with just one other chic color like gold!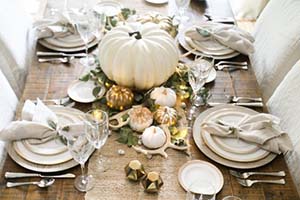 Bring in Fall Color – Splash the colors of the season all over your table!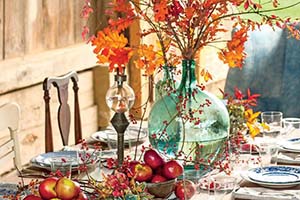 www.brunswickforest.com
888.371.2434