Thalian Hall and Wilson Center
November 29, 2019
ISWebmaster
As the weather begins to get cooler, and we find ourselves drifting closer to the holidays, what better way to spend some time indoors than catching a show at Thalian Hall or the Wilson Center? Brunswick Forest values our centralized location, close to all the best entertainment options that Wilmington has to offer. Thalian Hall and the Wilson Center are more than just a great place to catch a show this season; they're a major part of our local area's economy and cultural scene!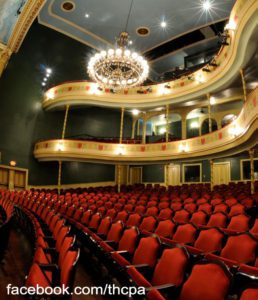 Thalian Hall is truly a gem from another era, now perfectly preserved in the heart of downtown Wilmington, just minutes from our master-planned community at Brunswick Forest. First opened in 1858, Thalian Hall is a must-see local landmark. The structure is a fine example of architecture of the period, and the main stage is lavishly decorated in the style of Classical Revival and Late Victorian inspiration. It holds the distinction of being one of the oldest stages for the performing arts still continuously used in the United States. The Thalian Hall Center for Performing Arts or THCPA do a great job of preserving this local icon, providing audiences with ticket areas, ushers and a fantastic place to view some of the biggest names in entertainment. A whopping total of over 495 performances have been shown at the Thalian over the years! Ballet, classic theatre, pop, jazz and independent films have all been shown here. Thalian Hall is the perfect area to catch a show during the holiday season!
While Thalian Hall brings audiences back in time with its charming atmosphere and historic value, the Wilson Center at Cape Fear Community College is the place to be for some of the biggest acts in Wilmington! The grand performance hall in the Wilson Center is unlike anything you've seen, this side of the Cape Fear River! Specifically engineered to create an optimal viewing environment from all angles, the main stage has three separate floors that wrap around it. The setting is intimate, and guests feel like they are truly a part of the show, no matter where they're viewing from. A gargantuan lobby in the Wilson Center features glass walls, and a space that can comfortably accommodate large crowds. While waiting for a performance, guests are also free to relax outside, under the shade of the courtyard trees.
Be it for a relaxing evening with someone special, or for a night of the town with a whole group of friends, both the Wilson Center and Thalian Hall will provide you with some of the best entertainment. Take note of the upcoming shows that you don't want to miss in the coming weeks:
Ballet for Young Audiences: The Little Mermaid
Where: Thalian Hall
When: Thursday December 7th at 7:00pm
Price: Reserved seating starts at $20 – $50
This ballet performance may not be the Disney interpretation, but this show is guaranteed to be every bit as magical! Based on the original story by Hans Christian Andersen, this ballet will follow the story of a young mermaid who wishes to walk on land with humans. This performance is sure to be a delight for everyone.
Where: Thalian Hall
When: Saturday December 7th at 7:30pm
Price: General admission is $20 plus tax and reservation fee
Tickle your funny bone with this standup routine that promises to be dogone hilarious! All proceeds from the show go to benefitting The Gio Fund, a nonprofit animal welfare organization that serves our furry friends throughout the greater Wilmington area. A perfect start to the December holiday!
Where: Thalian Hall
When: Thursday December 12th – Saturday December 22nd, main showtimes are 3:00pm and 7:30pm
Price: $28 Dollars
Here is a timeless classic with a new age twist, just in time for the holiday season! It's Charles Dickens' tale of Christmas redemption but set in a "Hooverville" age town outside of St. Louis rather than London. It's all the spirit of the original in a timeless setting!
The Illusionists: Magic of the Holidays
Where: The Wilson Center
When: Tuesday December 10th – Wednesday December 11th at 6:30pm
Price: Tickets range from $38 – $92 plus tax
The magic of the holiday season comes alive right before your very eyes, quite literally, in this spectacular performance for all ages. You never know what mind blowing trick will come next, but one thing is for sure, this non-stop fun is a great way to spend an evening in Wilmington!