TAKE IN THE ARTS
July 18, 2017
Beth Burgee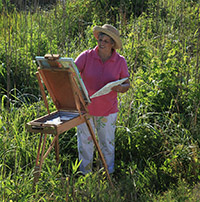 If you enjoy the arts, as a Brunswick Forest resident you are in luck!!  The Wilmington and Leland areas are flooded with museums, theaters, galleries and art groups…just waiting for you to take part in!
In Wilmington you will find the Cameron Art Museum, where you can take in weekly exhibitions, staged readings and musical programs inspired by the arts.  Just a few miles from the Cameron Art Museum, you will find the CFCC Humanities & Fine Arts- Wilson Center.  The Wilson Center is bring some of the biggest and best performances to Wilmington like The Righteous Brothers: Bill Medley & Bucky Heard, ZZ Top, and a Broadway-style performance of Kinky Boots!
In Leland, you will find the Leland Cultural Arts Center.  At this venue, you can peruse local artist's work; you can try your hand at throwing pottery; or you can host an art-related event.  This facility is only a few years old, but it is already offering some of the best programming for local artists looking to take their skills to the next level or even try something new.  Just down the road from the Leland Cultural Arts Center, you will find the Odell Williamson Auditorium.  This facility commands a great musical line up every year and has featured acts like Willie Nelson, Bryan Adams and the Loving Spoonful!
So get out and about in Wilmington and Leland and explore the arts available to you at these venues!!
www.brunswickforest.com
888.371.2434