Swing into Spring: The Brunswick Forest Tennis Club
March 28, 2018
Beth Burgee
19125
false
false
true
false
true
true
false
auto
false
ease-in-out
300
false
0
true
false
%curr% of %total%
One of the longest standing Brunswick Forest clubs, the Tennis Club is a diverse mixture of residents with varying skill levels. The group boasts a range of clinics, social events, leagues and drop-in opportunities for members. The club emphasizes the social side of tennis and encourages new members to take a lesson or clinic, come during a community drop-in time, or contact one of the tennis coordinators for information on joining a USTA team.
The Fitness & Wellness Center at Brunswick Forest currently has five hard surface tennis courts that are used by BFT and the club expands into Brunswick and New Hanover County, as needed, for league play and social gatherings around the community.
Sitting down with Joann Birkenstock, one of the clubs Activity Coordinators, we took a look inside the Brunswick Forest Tennis Club and found out why over 200 residents have decided to become members of this well-established and well-rooted club.
MEETING THE PRO: JEFF KOHL
Head Pro, Jeff Kohl, has been a part of the Brunswick Forest Tennis Community for about five years, but his experience spans over 20 years in the industry. He offers private and semi-private clinics and lessons for all levels of play at the Fitness & Wellness Center throughout the week and provides BFT with the support and knowledge needed to run successfully. After speaking with Joann, Jeff's dedication to Brunswick Forest is apparent and his willingness to go above and beyond for the club and overall community is a welcome and appreciated addition to the bigger collective. Jeff's most recent contribution to residents is a tennis ball machine for players as they are on the courts. The machine is provided to the community for a minimal fee and offers ease of operation and functionality for players.
SOCIAL HAPPENINGS
The Tennis Club hosts several community events through out the year and continues to emphasize the social side of tennis rather than the competitive side. Their upcoming trip to the Volvo Car Open on April 4th is next up on their list of activities and is quickly followed by a Mixed Doubles Tennis Mixer on May 6th. In addition to these upcoming events, they schedule tennis mixer's and parties throughout the year to encourage members (both new and returning) to step onto the court and socialize with fellow club members and residents.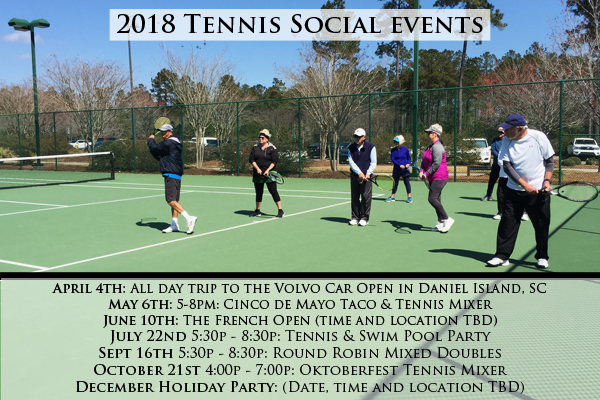 DROP-IN CLASSES, CLINICS & LESSONS
Following a weekly schedule with time slots for drop-in's, league play and clinics; the Tennis Club has opportunities for all levels of players. Whether you're looking to advance your skills, meet new Brunswick Forest residents, or find a new way to get active in the community; the tennis club gives you the opportunity to do so on a daily basis.
LEAGUE PLAY
Aside from their social flare, the tennis club has many avid tennis players as well. They currently have six teams playing in the Greater Wilmington Tennis Association league and have representation spanning all age categories. They are also involved in the Brunswick County Tennis Association as well as several day leagues in Wilmington. The league involvement has been on the rise in recent years and continues to grow with the addition of new members.
GIVING BACK
Recently joining a national, youth-driven nonprofit organization that aims to improve our planet by recycling all the tennis balls in the United States, the Recycle Balls mission has given the Brunswick Forest Tennis Club an opportunity to make a difference and to become a part of the solution to help recycle tennis balls into green products.
To get more information on how to get involved with the Brunswick Forest Tennis Club, contact the tennis coordinators, Joann Birkenstock and Dan Levine.
Joann: jbirkenstock@gmail.com
Dan: danlevine99@gmail.com
www.brunswickforest.com
866-831-8289