SUPERIOR QUALITIES IN SINGLE LEVEL LIVING
April 19, 2013
Brunswick Forest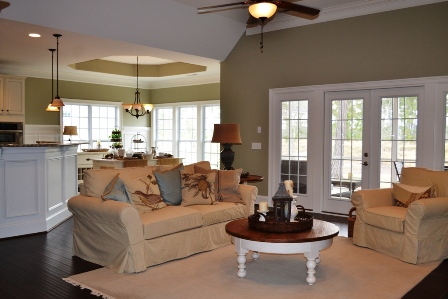 Making the transition to retirement should be easy going and relaxing just like the home you decide on. Folks who have chosen to spend their golden years in a single level style of home are already reaping the benefits and superior qualities that come with this design.
Single level living can be offered in various types of homes such as single family homes, townhomes, cottages, condos and more. By incorporating this design feature into your home, it ensures for long-term ease of movement, functionality throughout the years and it adds great value to your home.
Enjoy living life effortlessly with this style of floor plan without the worry of stairs or steps. Single level living incorporates wider entrances, doors and hallways as well as zero entry access into essential parts of the homes for its owners. Inclusion of the master suite, living room, and kitchen all on one level allows daily chores and activities to become quick and time efficient leaving more time in your day for your enjoyment.
Check out the links below to some of great single-level living plans.
888.371.2434