Summer Festivals!
May 15, 2019
ISWebmaster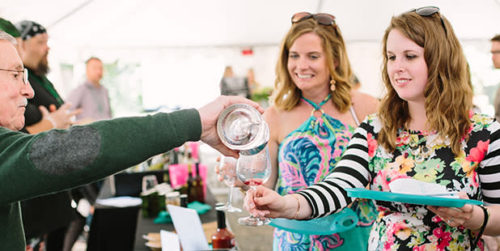 Brunswick Forest knows that local festivals are a great way of experiencing the culture of the Wilmington area.  They really give you a taste of what the area and the people that live here are all about! Here's an overview of some fantastic festivals on the horizon!
One of the best-known cultural festivals in Wilmington is the 26th annual Greek Festival, held at St. Nicholas Greek Orthodox Church. The festival will run May 17th – May 19th. A community tradition since 1992, this festival sees an average of 15,000 people and will have you yelling "Opa" in excitement! This festival will feature both traditional and popular Greek music, dancing and plenty of food! Fill your belly at tents serving baklava, gyros, cold beer, Greek pizza and more. See Greek dancers and let their instructor show you how to dance in Greek fashion. One-time admission for the entire weekend will be $3 dollars per person.
Eat and drink your fill at the Wilmington Wine and Food Festival, running from May 17th through May 19th! This event will be held at the gorgeous Bellamy Mansion Museum of History and Design. Experience culinary pairings like you've never tasted before, all sourced from the area's top chefs! It all starts on Friday with a Southern Smoke BBQ Cocktail Party, featuring great barbecue and a vote for best cocktail of the evening. Saturday guests will be invited to try a variety of fine wines, sourced from over a dozen local restaurants and 150 wine distributors. On Sunday, you can finish the weekend strong with live music, local brews and sparkling wine. Foodies take note, this is not an event you should pass on! Admission to the Bourbon & BBQ Derby Cocktail Party is $70 dollars, and the Corks & Forks Grand Tasting will be $70 dollars (food only $30 dollars). The Bubbles Brews & Street Eats event will be $40 dollars for adults and $5 dollars for children.
Making a grand appearance May 25th and May 26th is the 24th annual Orange Street Artsfest!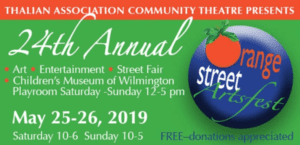 Presented by the Thalian Association Community Theatre at the Community Arts Center, this festival will capture your attention with the vast array of work from more than 80 artists. These artists hail from North Carolina, South Carolina, Virginia and Tennessee. Embrace the art of a Southern culture! You can experience incredible oil paintings, watercolor paintings, pottery, jewelry, wooden crafts and much more. With a laid-back atmosphere set in downtown Wilmington, this is a free of charge show that everyone should check out.
June 1st will be a day to remember, it's the 34th annual Carolina Beach Music Festival located on Pleasure Island! Jam to the smooth sounds of well-known beach bands such as The Band of Oz, Blackwater Rhythm and Blues Band, and Jim Quick and the Coastline Band. This get-together is one of the longest running beach music festivals held in the United States and is open to everyone. It's $25 dollars in advance or $30 dollars the day of the festival, and kids aged 12 and under get in for free!
The culture of Wilmington is unique in that its influence can spread in a variety of ways; through food, dance, music and art. Brunswick Forest, being a diverse and active community, encourages you to engage in some of these events. For a list of some upcoming festivals, be sure to check out the calendar at: https://www.wilmingtonandbeaches.com/events/festivals/?page=2