STYLE, SELECTION & CHOICE IN LELAND, NC!
January 25, 2013
Brunswick Forest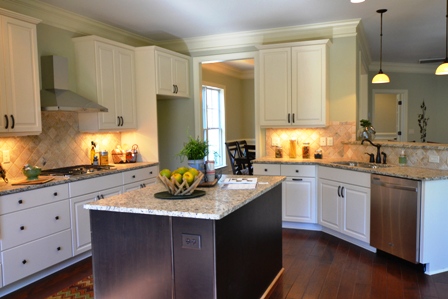 Leland, NC- At Brunswick Forest we are all about style, selection, and choice! With 12 neighborhoods to choose from, future homeowners have the best advantage for finding the right home. With everything from traditional bungalows and garden homes to low maintenance townhomes and custom golf course homes, Brunswick Forest delivers distinction and craftsmanship like no other master planned community.
Space is key!
Whether you are planning to downsize or grow in size, finding the right space is key and Brunswick Forest offers a variety of floor plans that are certain to dazzle and impress. This community features floor plans with square footage options that range from 1600-3000 in single family homes and 1200-2000 in townhome options. As you transition through life, the importance of being able to age in place in your home becomes paramount. At Brunswick Forest, we have listened to what our customers are saying and geared our floor plans to reflect those desires.
Interior & Exterior Excellence
Have the ability to show your design style at Brunswick Forest. With 12 uniquely themed neighborhoods, you are sure to fall in love with one of them. Whether you fancy distinguished brick homes, Floridian villa style homes or a charming coastal cottage, you will not be disappointed because Brunswick Forest has them all! Each distinctive floor plan offers a variety of interior and exterior choices, including, elevation options, flooring, cabinetry, fixtures and much more! Make it your own and feel right at home in Brunswick Forest, the Coastal South's fastest growing community!
888.371.2434