Stop by the 26th Annual Greek Festival this Weekend!
May 19, 2018
Beth Burgee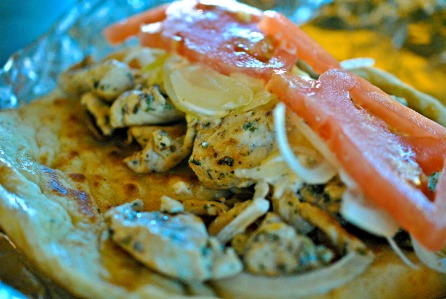 Taking place all weekend, the annual Greekfest at St. Nicholas Greek Orthodox Church draws thousands of visitors each year. This three day festival is located in the heart of Wilmington and features Greek food, cooking demonstrations, music, dancing, a market place and much more!
This year marks the 26th annual festival and it is sure to live up to it's reputation of being one of the best food and cultural festivals in Wilmington again this year. Admission is $3 for adults. Shuttles are available and it's set under a huge tent so the rain won't keep you away.
What's Going On?
There will be plenty to keep you busy while you're at the festival! Take part in one of the Greek dance lessons, listen to live music and shop for Greek jewelry, groceries, clothing and art in the market place. Cooking demonstrations will also be held throughout the weekend.
You can find the full schedule of events here.
Food & Beverage
Be sure to come with an appetite! Whether you're looking for something quick like a GYRO (pronounced Euro) or you are ready to try something a little more refined like the Pastitsio (like a Greek version of lasagna) or the road leg of lamb you will not leave disappointed. The food is authentic and full of flavor.
Craving something on the sweeter side? Stop by the pastries tent. They will have a full spread of Greek classics such as baklava, koulourakia and kataifi. There is even a special tent for loukoumades which are warm, honey-sweet fritter pastries that are dusted with powdered sugar and sesame seeds.
Slide over to the taverna for a selection of Greek wine and beer as well as some popular American brews.
Our mouths are watering already just looking at the menu!
Giving Back
Originating in 1992, the festival has continued to grow through the years with the average attendance at about 15,000 people throughout the weekend. Proceeds from the festival benefit the church and local charities.
This year, the festival is partnering with the Good Shepherd Center and donating a portion of the proceeds to their cause. The mission of the Center is to feed the hungry, shelter the homeless and foster the transition to housing. They have grown to become the largest provider of homeless services in the region.
What better way to spend your weekend than immersing yourself into the vibrant and unique Greek culture?! Hope to see you there!
Festival Hours:
May 18th & 19th – 11am – 10pm
May 20th – 11am – 6pm
www.BrunswickForest.com
866-831-8289