Staying Fit With Brunswick Forest: Fitness Classes at the Fitness & Wellness Center
August 29, 2018
Beth Burgee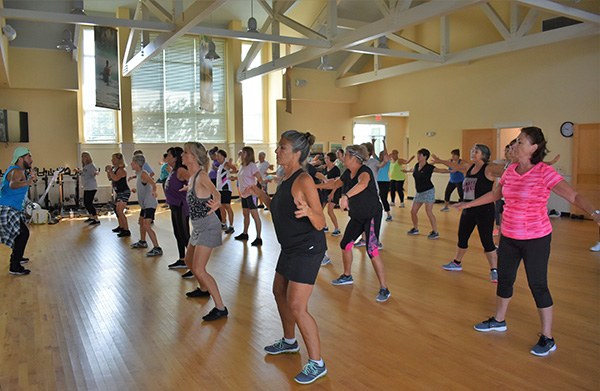 Staying fit and healthy isn't a stretch with Brunswick Forest's 18,000-square-foot Fitness & Wellness Center. The community-wide gathering spot provides up-to-date equipment and services, including indoor and outdoor pools, the latter with a wade-in entry, expansive sun deck and a convenient snack bar.
Several hard-surface tennis and Pickleball courts complete the outside area, while the indoor facility features an aerobics studio, a cardiovascular equipment room, men's and women's locker rooms with showers and a steam room, plus massage rooms and a lounge.
One of the most popular features of the Fitness & Wellness Center are the group fitness classes offered 7 days a week throughout the day in the Leland Room and Fitness Center pools.  Beginning at 7am, an array of classes are offered to residents for just $2 per class.
The monthly schedule features classes that range from Yoga, Pilates and Zumba to Total Body Conditioning and TaiChi.
"Mailyn, our Fitness Coordinator does a wonderful job at listening to the residents. If there is a high enough demand for something new, she will do her best to make it happen," explains the Activities Director, Nicole Stone.
Some of the most popular classes to attend are Zumba with Victor, who keeps the energy level high and fun; as well as the Chair Strength, Balance and Flex class that is appreciated by residents who are recovering from surgery or simply struggle moving from the floor.
Are you in rehab for an injury? Aqua classes are a wonderful alternative as they are easy on your joints. These classes also run throughout the week and include Aqua Pump, Aqua Zumba, Gentle Aqua and more.
Interested in learning more about Brunswick Forest's fitness class offerings? Check out the Fitness & Wellness Center's website to stay up to date on the latest classes, workshops and events happening in the community.
21225
false
true
true
false
true
true
false
auto
false
ease-in-out
300
auto
false
0
true
false
%curr% of %total%
www.BrunswickForest.com
866-831-8289