Stand-up Paddleboarding – Relax, Compete or Spectate
April 19, 2019
ISWebmaster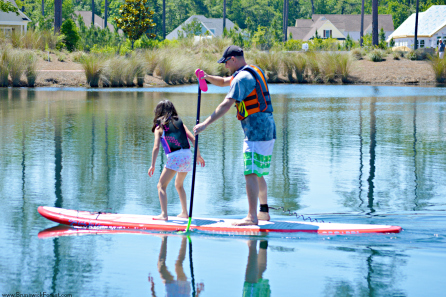 The coastal environment, Southeastern North Carolina provides a perfect backdrop for all kinds of water-based activities. With longer than average summers, this is the perfect climate to get out on the water. Paddle boarding is a not only a unique way of traversing local waterways, but it's a great way to stay active.
Brunswick Forest is its own little oasis of fun when it comes to paddling activities. Amenities such as Hammock Lake give residents a calm and pristine area to use stand-up paddle boards. Paddle boarding is a great way leave stress behind and focus on enjoying what life has to offer.
If you haven't tried stand-up paddle boarding before, you're missing out on a lot of fun! An offshoot of traditional surfing that originated in Hawaii, paddle boarding is a versatile activity that can be used to ride waves or traverse gentler waters. Stand-up paddle boarders balance on top of their board and propel themselves using a paddle.
There are two events coming up in your local area that will satisfy any stand-up paddle board enthusiast.
The Carolina Pro-Am SUP Championship will be taking place near Crystal Pier at Wrightsville Beach on April 20th through April 21st. Stand-up paddle board competitors will face off against one another for the chance to win a $15,000 prize, promoted by the World Paddle Association! Free for your viewing pleasure, this is one event worth checking out.
Taking place from April 25th to April 28th at the locally renowned Blockade Runner Beach Resort, in Wrightsville Beach, is the Carolina Cup. If you're in the mood for some competition, there will be five challenging races that will test enthusiasts of all ages:
A kid's race starting Sunday, 10:30am
The Harbor Island 5k starting Saturday, 8:40am
The Money Island 10K race starting Saturday, 9:10am
The 13.2-mile graveyard elite race Saturday, 9:40am
The new OC-1 and surfski graveyard race Saturday, 8:30am
24628
false
true
true
false
true
true
false
auto
false
ease-in-out
300
auto
false
0
true
false
%curr% of %total%
There will also be a variety of clinics, expos, and demos that will be taking place throughout the duration of the three-day event. Paddle boarders should not delay, because the Carolina Cup is shaping up to be a great time.
Good times on the coast are never far away, and there's plenty of fun to be had just steps away from your own home.