Spring is in the Air – Living Your Coastal Nature
March 16, 2018
Beth Burgee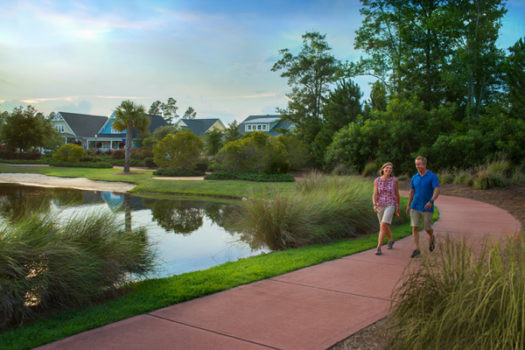 Making our way through the month of March, Brunswick Forest is getting ready for the start of Spring! Flowers are blooming, birds are chirping and residents are spending more and more time outside living Coastal by Nature.
As Spring approaches, we'll be posting a new series of blogs that will highlight a few of our favorite outdoor activities in Brunswick Forest. Opening the series, we're stepping outside and into Brunswick Forest's masterfully planned, and picturesque 4,500-acre reserve.
Walking &  Biking Trails
With a network of more than 100 miles of paved and unpaved walking and biking trails, spring is the time of year to get outside and explore all that our community has to offer. Our trails connect Brunswick Forest's various neighborhoods to all of the amenities, parks and natural areas; making walking or biking convenient and enjoyable for residents.
Be sure to explore the four-mile loop of paths circling the boot-shaped natural area in the heart of Brunswick Forest. Circling this 343-acre area has become one of the community's most pleasant and popular nature walks. It can be accessed via a trail leading from Annsdale Park.
Parks
Whether you're looking to enjoy an impromptu picnic with neighbors at Walden Park, watch the sunset over Hammock Lake, or enjoy socializing and dancing the night away at one of our outdoor summer concerts in Annsdale Park; Brunswick Forest's parks are each unique and offer residents a wide variety of outdoor activities to choose from.
Looking for something to do with Fido? Meadow Park caters to our four-legged residents with a dedicated Bark Park!
Kayak & Canoe along Town Creek
Within Brunswick Forest, the Town Creek river launch offers residents the opportunity to fish, paddle, and picnic along the banks of picturesque Town Creek. Enjoy an abundance of wildlife, aquatic vegetation, and virgin forests as you make your way down this tidal-influenced tributary.
The launch features an innovative design that makes launch and recovery as easy as possible. Kayaks are placed in cradle docks that allow it to glide right into the water.
Hammock Lake
One of Brunswick Forest's most popular amenities, Hammock Lake provides three acres of water for paddling and rowing, plus white sandy beaches for sunning and wading. Located within the Shelmore neighborhood, Hammock Lake gets plenty of use year round, but with the smell of Spring in the air, we're expecting to see residents taking advantage of this signature amenity as often as possible.
Stay Tuned
Next week's blog will feature upcoming events and happenings within the community.
Stay in the loop by subscribing to our blog!
www.brunswickforest.com
866-831-8289