SHELMORE AT BRUNSWICK FOREST
March 21, 2014
Brunswick Forest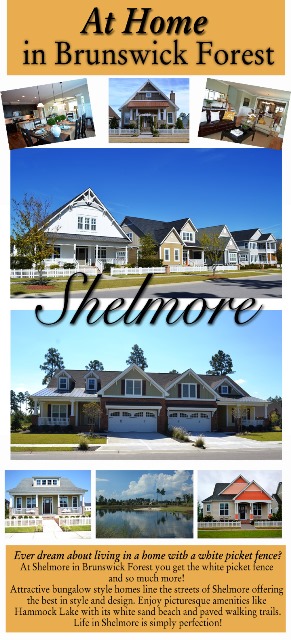 BUNGALOW LIVING AT ITS BEST
Feel at home in Shelmore at Brunswick Forest where charming bungalow-styled homes line the streets and community amenities are right at your fingertips! Shelmore at Brunswick Forest is a neighborhood that is exceptional in design and unique in architecture with its wide array of neo-traditional bungalow-styled homes. Enjoy eye-catching and easily livable bungalows that feature contemporary stylings with an old-world feel.
These colorful and smartly designed cottage homes create a picturesque and one-of-a-kind streetscape that offers the perfect combination of style and diversity. Each of Shelmore's uniquely attractive bungalow homes feature a gourmet kitchen, spacious living area, rear entry garage, welcoming front porch and distinctive cottage home characteristics only found in a Shelmore home.
Learn more about the bungalow homes in Shelmore here!
www.BrunswickForest.com
888.371.2434