SEA TURTLE HATCHING SEASON
August 19, 2016
Brunswick Forest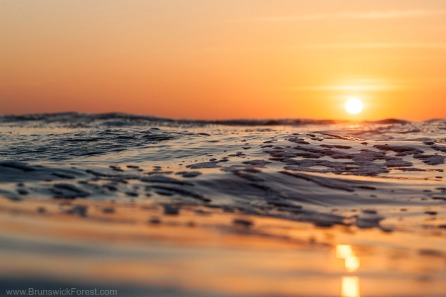 Summer on the North Carolina coast is an active time of year with plenty of visiting tourists and local residents out and about enjoying the many waterways, beaches and other natural amenities the area has to offer. August in particular is an active month in coastal North Carolina for hatchings of sea turtle nests. All along the beaches near Brunswick Forest in the coming weeks, volunteers will be helping assist with hatchings in designated nesting locations.
NESTING AND HATCHING SEASON
Sea Turtles nest on local area beaches from May until August. Each female turtle can come ashore to nest three to five times a season and deposits around 150 eggs per nest. During nesting season, it is very important that local residents keep beaches dark at night. Sea turtles like to nest after dark and lights from homes and businesses can disorient the nesting mothers as well as the new hatchlings. These new nests are marked and protected by local organizations and volunteers until the sea turtle eggs are ready to hatch.
LOCAL VOLUNTEERS
Sea turtle hatchings are a big event on the North Carolina coast and volunteers are needed during hatching season to assist the hatchings with their journey to the water. As a resident of Brunswick Forest, you can become involved in efforts to protect sea turtles and assist during hatching season! Visit SeaTurtle.org to find a list of coordinators who can help you become involved with assisting in hatching season.
NEARBY SEA TURTLE HOSPITAL
The Wilmington area is one of the few places on the entire east coast where sea turtles are active and every effort is made by local groups and places like the Karen Beasley Sea Turtle Rescue and Rehabilitation Center in Topsail Beach to protect these beautiful creatures. In addition to conservation efforts, the hospital helps to rescue and rehabilitate sea turtles who are sick or injured.