Sales Agent Patrick Crean: In His Own Words
August 19, 2019
ISWebmaster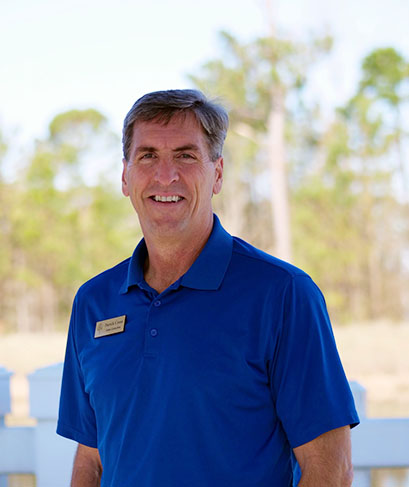 Life on the Southeastern coast of North Carolina has its fair share of benefits for a master-planned community that promotes a healthy and active lifestyle. Brunswick Forest attracts many aspiring homeowners with its great location. Historic downtown Wilmington, picturesque beaches and some of the best healthcare services surround this wonderful community. Every one of the knowledgeable real estate agents at Brunswick Forest know that such a location is highly desirable, with dozens of aspiring homeowners making the move down South every year. Each agent has their own unique experience being on the real estate team, and agent Patrick Crean has plenty to say about his own experiences!
Patrick Crean was born and raised on Long Island, New York. But after he met his wife, who was born in raised in Loris, South Carolina, he began to yearn for a warmer environment. "Me and my wife met in 1988," Patrick tells us. "Two years later I relocated down South to North Myrtle Beach. In a way I guess you can say it was my wife who first attracted me to the South, but I also just loved the idea of a coastal lifestyle," he states. Not long after he moved to North Myrtle Beach, Patrick decided to become a PGA Golf Professional. This was a fitting career move considering the area's proximity to several golf courses. "I was with the PGA from 1990 to 2006, but in the end, I felt that I would instead start a job in the real estate business in 2007," Patrick says.
Like many agents on the Brunswick Forest sales team, Patrick first learned of our amenity-filled community from a friend of his. "My friend, Chris Dedrick, was already working here at Brunswick Forest when he first told me about the area! He naturally invited me to come visit and play at Cape Fear National, as well as taking a tour of the community," Patrick continues. After seeing the amenities, neighborhoods, pristine beaches, proximity to Wilmington and golfing opportunities that Brunswick Forest had to offer, Patrick felt that he was meant to be a part of it. "I felt that this was a community that I could be proud of representing in my field." he adds.
After officially joining the team, Patrick quickly fell in love with the laid-back atmosphere in which he could connect with potential homeowners. Patrick feels that the ideal location and appeal of Brunswick Forest often sells itself to clients. "I've even been a part of the ideal-Living home shows up and down the coast since 2007, where I get to meet so many great potential clients who show interest in the Wilmington area. I've been to at least 40 different shows since I started here, and assisted many potential residents with our Coastal Discovery Package," Patrick explains. But no matter how many home shows he's traveled to, Patrick finds the greatest satisfaction in helping people plan out important chapters in their lives. The variety of clientele and playing a key role in helping them in the moving process is very rewarding to him. "It is rewarding to speak with homeowners after they move in and hear them talk about all the new friends that they've made, as well as all the fun that they've been having. For me, it's important to help them make an informed decision regarding their relocation and future lifestyle. I enjoy helping my clients in this next chapter in their lives," Patrick elaborates.
By far the most appealing part about Brunswick Forest as community to Patrick, is that it's an active lifestyle community that provides so much value to potential homeowners. Being located near Wilmington and so many great lifestyle options really helps Brunswick Forest to set itself apart from other communities of similar design. "Brunswick Forest is only minutes away from Wilmington, NC and all the surrounding areas have to offer. I feel that this is the most valuable quality of our community," Patrick concludes.
Brunswick Forest is your ultimate active lifestyle community destination. The only question left is, will you be joining the Brunswick Forest family too? You can ask Patrick and the rest of the talented real estate staff by contacting them at: 866-831-8289, 910.371.2434 or info@BrunswickForest.com. Don't forget to ask about our Coastal Discovery Package and see if you're Coastal by Nature®!