Restaurant Spotlight: Restaurants on the Rise in Leland
April 28, 2018
Beth Burgee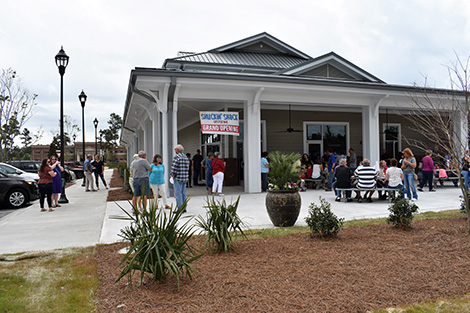 While Wilmington might grab the foodie spotlight from locals and visitors in the area, Brunswick County's growth has continued to draw attention from restaurant owners near and far. With well-known chains like Panera Bread and Aldi opening within the last 6 months, development in Leland continues to expand as we move further into 2018. While we're home to several nationally recognized restaurant chains, we've seen an increase in local restaurateurs moving across the bridge into Leland over the past year as well.
SHUCKIN' SHACK OYSTER BAR
Holding on to the spotlight in The Villages at Brunswick Forest, Shuckin' Shack Oyster Bar held their Grand Opening celebration on Saturday, April 7th at their first location on this side of the Cape Fear Memorial Bridge in Brunswick County. Originating in Carolina Beach, Shuckin' Shack now has 13 locations spanning over four states and has become a hot spot for locals and visitors to the area.
Specializing in oysters and shrimp, this well-known seafood restaurant also offers creative cocktails to pair with their fresh and delicious meals. Take a look at their full menu here and see what has everyone talking.
CAPE FEAR SEAFOOD COMPANY
Opening it's third area location in the Waterford Shopping Center, Cape Fear Seafood Company (CFSC) is a Wilmington area staple. Bringing their comfortable and relaxed atmosphere to Leland, this well-known and well-loved restaurant has received many coveted awards since opening their doors a decade ago.
Specializing in regional American seafood, signature dishes, hand cut fish, steaks and chicken along with freshly made desserts, CFSC continues to raise the bar for dining in Southeastern, NC. Most recently recognized by Our State Magazine as one of five restaurants in NC to try Shrimp & Grits, Cape Fear Seafood prides themselves in using the freshest possible ingredients and preparing them with love.
BLUE STAR KITCHEN BAR
One of the most recent restaurants to open their doors, Bluestar Kitchen Bar can now be found in downtown Leland. Chef and owner of Steviemack's International Company Food Truck, Stephen Harrington, has grown a loyal following over the past two years for his unique and impressive fusion of internationally inspired dishes and hopes to bring this eclectic style across the bridge to Leland residents.
Utilizing his brick and mortar location to expand on his food truck's success, Bluestar will be open for lunch and dinner Monday-Saturday and offers a Saturday and Sunday brunch on the weekends. The menu is similar to the Steviemack Food Truck, featuring his infamous blend of Asian-pacific dishes with more familiar southern ingredients.
For an idea of what to expect from Bluestar, check out Steviemack's Food Truck menu!
CHARLIE GRAINGERS
For those looking for a quick, inexpensive bite to eat, Charlie Grainger's features hot dogs, brisket and barbecue at their newest location in the Walmart shopping center along Highway 17 in Leland. 75 years after Charlie Grainger opened his hot dog stand on 17th Street in Wilmington, the brand is now ready to expand nationwide and with this expansion brings us our new go to hot dog joint right down the street from Brunswick Forest!
866-831-8289