Restaurant Spotlight – A Taste of the South
April 5, 2018
Beth Burgee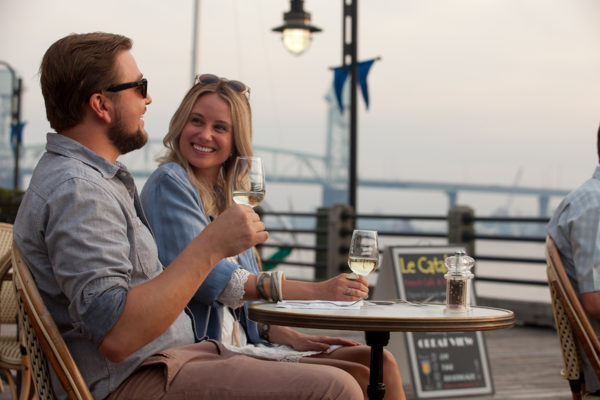 Located about equal distance between New York City and central Florida, Wilmington occupies a prime coastal South location. Brunswick Forest is nestled between downtown Wilmington's historic district and nearby coastal towns that offer family-friendly beaches, golf courses, nightlife, shopping and restaurants. Our proximity to downtown Wilmington and other nearby coastal towns contributes to the diverse and eclectic culture that makes up our area.
While our area boasts eateries from a broad range of cultures and backgrounds, Wilmington stays true to their Carolina roots with several local restaurants shining a light on southern comfort food. The area offers diners a vast array of mouth-watering Southern cuisine to choose from around town. Skimming the surface of our southern-inspired restaurants, this list comprises our top rated southern comfort food spots for when we're trying to put some south in our mouth!
Pinpoint Restaurant
Coined as being responsible for raising the bar of the Port City food scene by Wilmington Magazine, Pinpoint won the 2016 award for Best Fine Dining Restaurant by readers. In addition to the local recognition, Southern Living Magazine named the restaurant among the best new restaurants in the South for 2016.
Pinpoint serves food deeply rooted in Southern tradition and foodways. Pinpoint's menu changes daily and features local seasonal offerings from Wilmington's farmers, fisherman, oystermen and crabbers as much as possible. Known for their farm to table dishes that offer a unique take on Southern classics, Pinpoint continues to wow guests with their creative and eclectic  menu selection.
This foodie favorite also offers brunch on Saturday and Sunday. Indulge in their ricotta pancakes with roasted banana, dates, sorghum-butter, and candied walnuts before filling up on their fried chicken breast biscuit with b&b pickles, comeback sauce and hash.
Rx Restaurant
Looking for a local hidden gem? Look no further than Rx. Locally and seasonally inspired, ingredient-driven Southern cuisine is their specialty. Located in the historic Hall's Drug Store building in the Castle Street Arts district, Rx creates dishes that highlight the region's organic farmers and fishermen.
Because of their commitment to local sources, they feature a seasonal daily changing menu that includes a wide variety of seafood dishes and southern staples like the infamous shrimp and grits. Currently featured on the menu, the NC duck with Cattle sweet potatoes, Morgan's cabbage, Shelton apples, Benne seeds and sorgham proves to be a local favorite among diners.
Aside from their cuisine, Rx is also known for their sophisticated yet casual atmosphere to match their southern-rooted menu.
Taking home the title for Best Fine Dining restaurant as well as Best Chef by Encore in the annual Reader's Choice Poll for 2017, Rx continues to set the stage for local eateries. "I think we are seeing diners caring more about where their food is coming from," says Chef James Doss to Encore while being interviewed for winning Best Chef in Wilmington.
Casey's Buffet
Since opening in 2005, Casey's Buffet, Barbecue & Home Cookin' has become a Wilmington-area staple. Part of the Southern tradition, where food and family go hand in hand, Casey's is family-run and prides themselves on their loyal customer base and out-of-town visitors that want the real Southern soul food experience.
Extending their reach beyond the local area, Casey's was named on the Yahoo Travel's list for best buffet in North Carolina for 2016. Customers can load their plates on the all-you-can-eat buffet with pulled-pork BBQ, golden-fried chicken, chitlins, catfish, mac'n'cheese, collards, sweet potato souffle and dozens of other sides to choose from. And don't forget the full dessert bar! Stocked with pies, cakes and all of the southern classics, you're invited to pile your plate high because we all know we're supposed to "save the best for last!"
Receiving Encore's 2017 award for Best Buffet, Best Fried Chicken and Best Soul Food in Wilmington, locals and visitors alike can't get enough of Casey's Buffet!
888.371.2434