RESIDENT SPOTLIGHT: THE FOX'S
May 30, 2014
Brunswick Forest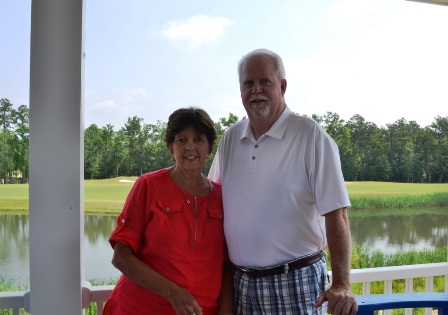 William and Bernice Fox bought in Brunswick Forest on their "gut feeling" that it was going to be the perfect place to call "home." Originally from Maryland, The Fox's relocated to the Coastal South for relief from traffic and snow, and in turn found a place with a variety of homes, amenities, and with truly down-to-earth people that they relate to.
Location was another top reason for the Fox's move to North Carolina, and since becoming resident's in Brunswick Forest, they have become frequent goers of Thalian Hall and end up in Wilmington at least 3 to 4 days a week.
"Wilmington is a big little town," says Bernice who loves the fact that everything they could need is just 6 minutes away. The extensive network of healthcare systems in the Wilmington area as well as easy access to the airport only added additional interest to Brunswick Forest which has an ideal location along the coast.
With a beautiful home along the Cape Fear National golf course and views of the 3rd hole, the Fox's intentions of a relaxed, easy going lifestyle have been realized.
"Everyone is here for the same reason," explains Bernice, "to relax and enjoy life," which is precisely what both she and her husband have become accustomed to!
When asked to describe Brunswick Forest, William easily responded, "It's like living at an adult day camp!"
Whether Bernice is attending water aerobics classes or William is bluffing in his weekly game with the poker club, both have come to the same conclusion, they have found the community, lifestyle, and home that they were searching for!
www.brunswickforest.com
888-371-2434