RESIDENT SPOTLIGHT: DENNIS & LYNN COLLETTE
June 15, 2012
Brunswick Forest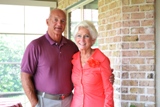 Outstanding and phenomenal medical care, coupled with a tight-knit community is the reason why the Collette's took a leap of faith and never looked back. Dennis and Lynn Collette resided in Newton, New Jersey until 2008 when they decided to make a change and give Brunswick Forest a shot. As the President of Newton Memorial Hospital in New Jersey, Dennis knew that when they decided to retire, he and Lynn planned on staying right in Newton where they knew they had great medical care. However, they wanted to downsize to a single level home from their two-story colonial built home. After vacationing in the Wrightsville Beach area for several years with their family, the Collette's understood and appreciated the beauty of the North Carolina coast and started to think that they might be interested in relocating there.
After taking a tour of the Porter's Neck area and other communities in the Wilmington, NC area, the Collette's decided to take the advice of their longtime friends and neighbors from back home in New Jersey, the Crisafulli's.  The Crisafulli's suggested that they visit Brunswick Forest, where they had a home. So the couple set out on a trip to North Carolina.
The Collette's were impressed!  Brunswick Forest had exactly what they were looking for…a great selection of single level homes and superior medical facilities located in The Villages town center at the entrance of the community.  That settled it for the Collette's; a move to Brunswick Forest was in their near future.
The Collette's had every intention of waiting about a year before actually making the move, but circumstances changed quickly when their home in Newton sold within 24 hours of being on the market. Their move was put on the fast track and Trusst Builders of the Brunswick Forest Builder Team had no problem helping make their dreams a reality. Just a few short months later, the Collette's moved into their beautiful home in the Villamar neighborhood of Brunswick Forest.  They are extremely happy with their home and love the sense of community that they feel with all of their neighbors.
Lynn and Dennis are both heavily involved in activities in Brunswick Forest. Lynn is an avid walker and loves playing bridge with friends; while Dennis frequents the Fitness and Wellness Center, enjoys the Lifelong Learning classes offered through UNC-Wilmington, and is a passionate hiker/climber. In fact just six weeks before making a climb up Machu Picchu in Peru, Dennis slipped and fractured his hip while taking out the trash. The top-notch medical care offered by New Hanover Regional Medical Center in The Villages in Brunswick Forest had Dennis on his way to a speedy recovery…just in time for him to make that trip to Peru!
Today, Lynn and Dennis both eagerly look forward to making many memories with the friends and neighbors in Brunswick Forest.