Resident Sponsored Activities: Introducing the Brunswick Forest Fishing Club
February 23, 2018
Beth Burgee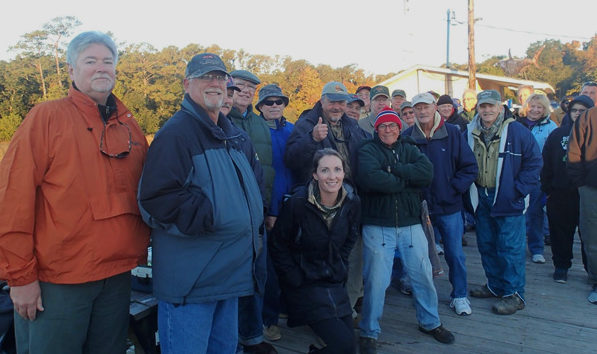 Set apart on 4,500 heavily-wooded acres containing parks, nature trails and creeks, Brunswick Forest is known for its prime location, diverse real estate opportunities and a wealth of amenities that provide residents with ample opportunity to get involved with the local community and promote social interaction among neighbors.
Among these opportunities are resident sponsored activities within the neighborhood. Coordinated and conducted by Brunswick Forest residents, we have a lot of very active clubs within the community. With a bit of variation every month, there are about 40 groups that meet regularly and form our community clubs.
Over the next few month's we'd like to take some time to introduce a few of these resident sponsored activities to our readers. Club members make-up a vital part of our community and their continued involvement within Brunswick Forest shines a light on the social, active and diverse lifestyle we offer here.
FISHING INSIDE BRUNSWICK FOREST
"Casting off" for our ongoing resident sponsored activities feature is the Brunswick Forest Fishing Club! Coastal by nature, our community offers a couple of fishing opportunities right in your back yard. Within Brunswick Forest, the pond at the Community Commons is centrally-located within the neighborhood and is fully stocked with bluegill and juvenile bass. Fishing here is for residents only and is designated for catch-and-release.
In addition to the Community Commons pond, is the Town Creek River Access. Town Creek borders the community and offers residents the opportunity to fish, paddle and picnic. The tidal-influenced tributary meets with the Cape Fear River and Intracoastal Waterway, eventually winding its way to the Atlantic Ocean.
FISHING OUTSIDE OF BRUNSWICK FOREST
18741
false
false
true
false
true
true
false
auto
false
ease-in-out
300
false
0
true
false
%curr% of %total%
While fishing isn't accessible in all of our neighborhood watering holes, we are ten minutes from the beautiful and vast Cape Fear River and just 30 minutes from some of the finest beaches on the East Coast. The nearby island communities of Carolina Beach, Wrightsville Beach, Kure Beach and Oak Island all lend themselves to some magnificent fishing opportunities and the Fishing Club takes advantage of Brunswick Forest's great location to all of these nearby islands.
THE BRUNSWICK FOREST FISHING CLUB
18767
false
true
true
false
true
true
false
auto
false
ease-in-out
300
auto
false
0
true
false
%curr% of %total%
The club is made up of about 40 members, both male and female. The majority of members are salt water fisherman, so most of the activities are tailored towards the salt water. Among these activities are large group charters out of nearby Calabash and Wrightsville Beach, small group charters, pier fishing, surf fishing at Fort Fisher, various fishing clinics (including salt water fishing and fly fishing,) and a Buy & Sell Gear exchange.
"Most of us have relocated to this beautiful community from different areas around the country. We all love fishing and the comradery that goes along with our hobby. Our vision is to enhance the fishing resources, fishing skills and fishing opportunities for members of the Brunswick Forest Fishing Club," says Barry Grupp, the newly appointed President of the club.
For those fresh water fishing enthusiasts, Barry explains that there are several activities through out the year that cater to this group as well. Kayak fishing in nearby Sutton Lake is common among members as well as the Town Creek boat launch right in Brunswick Forest's back yard.
LOOKING AHEAD
"One of the things we are planning to do this year in addition to the club sponsoring events, is to allow any member to suggest a fishing activity via an email to all club members. Lets say I feel like fishing at Kure Beach Pier, I put out an email and invite anyone from the club to accompany me," explains Grupp.
The next meeting will be held on February 27th from 5:30-8:00pm in the Leland Room at the Fitness & Wellness Center. Walk-in's are welcome. To reach out to the club with questions, Barry can be contacted via email – gruppb48@gmail.com.
www.brunswickforest.com
866-831-8289