Reelin' in a Keeper! Fishing Areas Near Brunswick Forest
July 12, 2019
ISWebmaster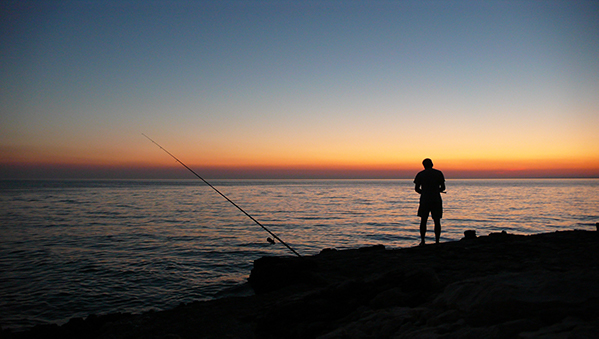 Now that's a keeper! The Atlantic Ocean is so important to our identity as a coastal Carolina community. It provides an ecosystem for numerous species of life, industry, trade and pleasure. Naturally, the beaches situated close to Brunswick Forest are on everyone's list to visit during hot summer months. One tradition that is inseparable from coastal living, is the fun of reeling in a large variety of fish for both food and sport.
You don't have to leave Brunswick Forest to enjoy a day of fishing, as residents already have access to a stocked pond by the Community Commons. For those looking to cast their lines in a more adventurous fashion, there's plenty of areas to fish in your local area. Be sure to pick up a saltwater fishing license at your local Walmart!
Standing watch over the shoreline at Wrightsville Beach ever since the 1930's, Jonnie Mercer's Fishing Pier is a fantastic place for any angler to try their luck. Sturdily built from solid concrete, this pier offers a fantastic view of the water along with ideal areas to cast your line. While some may prefer to cast their lines from shore, Jonnie Mercer's gives you easy access to a day filled with fun. Everyone is welcome at Jonnie Mercer's, and it's a perfect place for young anglers to go fishing! The pier also provides you with solid shelter, provisions, tackle, restrooms and a place for food. This makes your fishing experience centralized and simple, without having to get wet.
Location: Wrightsville Beach, 23 E. Salisbury St.
Hours: Tuesday, Wednesday, Thursday, Sunday and Monday: 7am -11pm. Open 24 hours on Friday and Saturday
Price: Daily passes start at $8.00 per rod
Notable Fish: Bluefish, Spanish Mackerel, King Mackerel, Black Drum, Red Drum, Flounder and more.
Nothing says "gone fishin'" like spending your day out at sea on a 72-foot party boat! The Vonda Kay, docked at Mott's Channel Seafood, is ready to carry you to your next deep-sea fishing adventure. With two diesel engines and full equipped with safety gear, the Vonda Kay offers guests a chance to head several miles offshore to land some of the best fish in the area. Trips can head as far off as the Gulf Stream, where the warm water currents ensure great angling hotspots. Food will be provided by the crew throughout the journey, allowing for one of the best offshore experiences you'll ever have. If you're serious about your fishing, then be sure to bring a soft cooler and prepare to land some big ones! Contact Captain Dave Gardner if you have questions at: 910-545-3474
Location: Wrightsville Beach, 120 Short St.
Hours: Monday, Tuesday, Wednesday and Friday: six-hour half day trips, Thursday and Saturday: twelve-hour full day trips.
Price: Half day: $60.00, Full Day: $100.00
Notable Fish: Vermillion Snapper, Red Snapper, Amberjack, Mahi Mahi, Black Sea Bass, Grouper, Cobia and more
Holden Beach Pier offers good opportunities to catch a wide variety of fish. The pier is a whopping 700 feet long, with rustic wooden planks that makes this structure a popular destination to fish from. Benches and tables line the pier, giving fishermen an ideal place to cut bait or just take a breather. At the same time, your breath will be taken away by the fantastic views the pier gives you of the Holden Beach community. The pier offers a great place to watch the sunrise or stay late to try and reel in a few big ones. For late-night fishermen, lamps are also on the pier to provide you plenty of illumination. Holden Beach Pier is a great place to satiate your need for fishing, especially in the summer sun.
Location: Holden Beach, 441 Ocean Blvd W
Hours: Open Monday – Sunday, 7am- 10pm
Price: $1.00 to walk the pier, $9.00 to fish
Notable Fish: Sheepshead, Black Drum, Red Drum, Virginia Mullet, Flounder and Trout
Ever get bored of fishing? Yeah right! Neither do these guys! Yeah Right Fishing Charters is a locally operated fishing charter that focuses on inshore, nearshore and backwater fishing. Captain Butch Foster has a 23-foot Riddick Bay Skiff that's just right for you and up to two other people. The charter focuses around the areas of Southport, Bald Head Island, Oak Island and St. James. The boat comes full equipped with a whole lot of live bait, nets, rods, reels and tackle. Best of all, you don't even need a saltwater fishing license! You and your friends will all be taken care of, so you can spend all your time on fishing. Contact Captain Butch at: 910-845-2004
Locations: Southport, 4909 Fish Factory Rd
Hours: Open Monday – Sunday, 8am-10pm. Half-day: 8am-12pm, Full-Day: 8am-3pm
Price: Half day: $350.00, Full day: $550.00
Notable Fish: Flounder, Trout, Red Drum and Black Drum
Fishing is a great avenue to be one with the coast. Put your mind at ease, reel in your line, and think about what tall fishing tale you'll tell your friends. When you live here at Brunswick Forest, adventures are always nearby.