Real Estate Advisors Recognizes Brunswick Forest as Top-Selling Master-Planned Community for 2018
July 14, 2018
Beth Burgee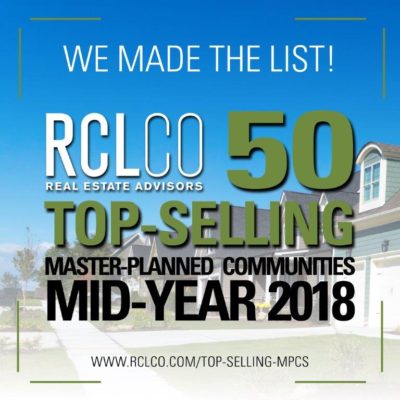 As our award-winning community continues to grow, so does our collection of awards and accolades. Most recently, RCLCO (Robert Charles Lesser & Co) has completed their 2018 mid-year national survey identifying the top-selling Master-Planned Communities throughout the country and Brunswick Forest has made the Top 50 list yet again!
RCLCO,  has been the go-to real estate advisory firm for strategic and tactical advice regarding property investment, planning, and development for the past 50 years. RCLCO has been conducting their survey of top-selling MPC's since 1994 by researching high-performing communities in each state.
Standing out as the only Master-Planned Community in the state to make the list, Brunswick Forest's continued development and growth is fueled by our community and the residents that make our Coastal by Nature lifestyle so welcoming and appealing for new homeowners.
With 198 properties currently sold for the 2018 calendar year, we are humbled and appreciative of the support and dedication our staff, residents and community continue to shower us with.
Without you none of this is possible.
Check out the full list of awards Brunswick Forest received in 2017 below:
www.BrunswickForest.com
866-831-8289