Raise a Toast to The Villages: Brunswick Beer and Cidery Coming Soon!
October 19, 2021
ISWebmaster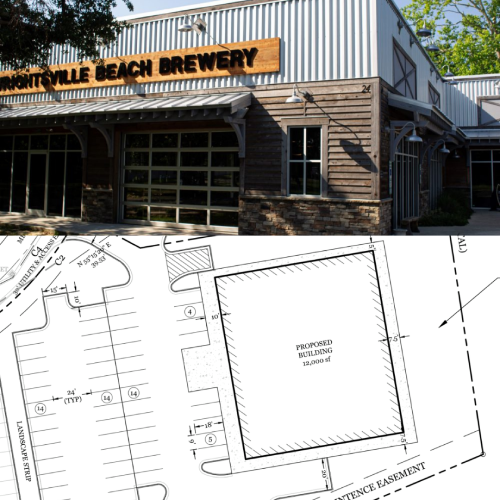 If you're a fan of sharing a drink with friends and neighbors or a connoisseur of craft alcohol, then you will be excited for the latest addition coming soon to The Villages Town Center. The Brunswick Beer and Cidery has officially broken ground and is due to be completed at the end of the year! When completed it will be Leland's second planned brewery and the first cidery for the Brunswick and New Hanover locales.
This new brewery and cidery is an offshoot of the locally famous Wrightsville Beach Brewery and will be headed by Jud Watkins and lifelong friend Will Cameron. Brunswick Beer and Cidery will be their second official location. The proposed facility will be located right next to our New Hanover Regional Medical Center here at The Villages Town Center, measuring up to 12,000 square feet. Not only will this be a great way to support local craft brewing, but this location is going to take the concept of a "brewery" to the next level. Brunswick Beer and Cidery are expected to employ approximately 100 employees, include a venue for outdoor music, and have lots of space to enjoy craft beverages. The real key here is that the owners want to bring a local feel to the area and give others a relaxing place to enjoy where they live. A sentiment that Brunswick Forest agrees with!
The fact that this impressive building will be right on the front doorsteps of many Brunswick Forest residents is highly anticipated, as it gives even more convenience to those looking to have a great time without having to venture into Wilmington itself. Brunswick Beer and Cidery, like Wrightsville Beach Brewery, will also feature a full menu of tantalizing items to go with your beverage. While it's confirmed there will be some crossover in culinary items, the owners behind this new project want this location to have its items and food sourced from local ingredients.
In addition to the already amazing selection of restaurants already present in The Villages Town Center, Brunswick Beer and Cidery will be another valuable addition to a convenient location for locals to enjoy their lives. Stay tuned for more news on this hotly anticipated attraction!