QUESTION: IS BRUNSWICK FOREST CLOSE TO SHOPPING AND DINING?
January 24, 2014
Brunswick Forest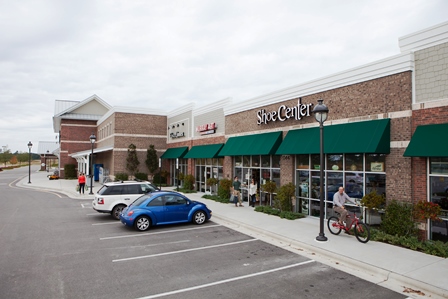 Answer: Yes! Brunswick Forest is ideally located around delicious restaurants and fabulous shops! Everyday shopping and dining conveniences and superb lifestyle options are only a few of the many reasons that home buyers love Brunswick Forest!
THE VILLAGES AT BRUNSWICK FOREST
Among Brunswick Forest's tremendous list of top-quality amenities The Villages at Brunswick Forest help Brunswick Forest stand apart from the rest! The 160-acre commercial village is located within the Brunswick Forest community and serves up several shopping and dining options right at your front door! Try Pizzetta's or Lowe's Foods for lunch and dinner choices, Port City Java for the perfect cup of coffee and coming soon is Bessie Burger to round out the terrific dining variety. Shopping is also essential and easily found whether grocery shopping or shopping for the new must have UGG boot, The Villages have you covered!
LELAND'S SHOPPING AND DINING SCENE
With a huge mix of ethnic and American flavors, Leland offers up a ton of diversity to appeal to the dining crowd! Everything from traditional Mexican provisions to authentic Italian and Thai cuisines, Leland's dining scene is abundant. A wide range of additional shopping options are also available in Leland's community which is just outside of Brunswick Forest; try locally owned boutiques or the wine shop! Leland makes shopping and dining selections plentiful for Brunswick Forest residents.
WILMINGTON'S WELL KNOWN VARIETY


Located just 5.7 miles from Brunswick Forest, Historic Downtown Wilmington, NC is known for its exquisite cuisine options as well as its large variety of boutiques and shops! Restaurants and shops line the cobble stoned streets of downtown Wilmington and only add to the charm that you will surely find there. French, Italian, Japanese and many other types of modern restaurants are available just minutes from the Brunswick Forest community. Shop until you drop with the wide range of boutiques, specialty stores and best of all, tons of antique shops to tickle your fancy!
Brunswick Forest's preferred location makes grabbing dinner or finding that perfect antique piece easy with a multitude of dining and shopping possibilities in and around this one-of-a-kind coastal community!
888.371.2434
www.BrunswickForest.com