Q & A With Cape Fear National Head Professional, Adam Clark
April 1, 2016
Brunswick Forest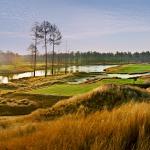 Featured on NCGolf.com
How does Cape Fear National differ from the other courses in the area?
We are a championship-caliber golf course that will give all skill levels a tee option that best fits their game. We are also the only public facility in our immediate area with over-seeded fairways which allows us to play on green grass all year long.
What is your course's answer to Amen Corner? (Describe your best/hardest 3 back/back/back holes and any tips to play them)
Holes 15, 16 and 17 at Cape Fear National are three very challenging holes coming down the stretch. All three are definitely risk-reward. The best way to play these holes, or any of the holes at Cape Fear National, is to hit it where you can see it. Don't get overly aggressive. If you do, this course can bite you.
What tournaments/events have you (recently) hosted or will be hosting?
We recently held the Appalachian State University Intercollegiate Tournament March 12-14. It was an exciting weekend of golf paired with great spring weather.
What is your course's claim to fame, or is there a little known fact that golfers should know about the property?
I always tell folks to be careful not to miss the fairway. Trouble lurks off every side and around every bend.
Besides golf, what other amenities do you offer if a golfer wants to spend most of the day at your facility? (post/pre round)
We have a comfortable restaurant and bar area at the clubhouse with a wide variety of food and beverage options along with a gorgeous back patio that overlooks the course.