Property Owner Spotlight: The DeGeorge Family
June 14, 2018
Beth Burgee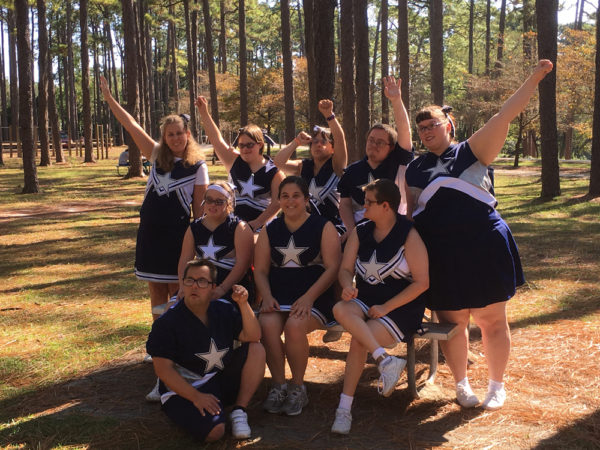 We often come across a story about a Brunswick Forest family that we really want to share with our readers. This month's Property Owner Spotlight features the DeGeorge family who live in Brunswick Forest's Shelmore neighborhood and have an exciting opportunity coming up at the end of this month!
Moving to Brunswick Forest from Pennsylvania two years ago, the DeGeorge family have since become increasingly involved in the local community. Daughters to Pam and Vince DeGeorge, Jill and Shari are both actively involved in the Shining Stars of New Hanover County. As a division of the New Hanover County Special Olympics, the Shining Stars cheer team has been raising funds over the past several months to attend the 2018 Special Olympics in Seattle.
Accompanied by 8 of their teammates, Jill and Shari  will be in Seattle cheering for various sports throughout the first week of July at the USA Games. Made up of 7 girls and 3 boys, the team will fly out Friday, June 29th.
In order to attend, the cheerleaders are required to raise their own money to cover all of the expenses associated with the 9 day trip. Hosting multiple fundraisers throughout the past several months, the team has currently raised enough to cover plane fair and hotel expenses while they're at the games. While these basic expenses have been met, there is still more money to raise that will assist with meals and day-to-day costs associated with travelling.
"We're looking at this as a once in a lifetime opportunity for our family and the Shining Stars team," explained Pam DeGeorge, mother to Shari and Jill.
Actively involved in the local community, both girls are 27 years old and attend Brunswick Community College during the day and are involved in various sports and activities with the Special Olympics in their free time. Jill, Shari and three other Shining Star cheerleaders also work at Bitty & Beau's Coffee throughout the week. In addition to their busy work and school schedules, both girls love to sing and dance and enjoy riding their bicycles to the Shelmore pool to swim.
We want to congratulate the whole team, especially our own Brunswick Forest residents Jill & Sheri, on this accomplishment and wish them well in their travels to this important event.
LOOKING TO DONATE?
All donations are tax deductible, but if you're not able to make a monetary donation, the team is also accepting gift cards or something to help benefit upcoming fundraising events.
The final fundraiser will be a yard sale held this coming Saturday, June 16th at Springview Baptist Church from 8am-12pm.
Located at 801 N. College Rd in Wilmington, NC.
For more information on how to donate, please contact Pam DeGeorge at (724) 493-2911 or via email at pamdegeorge@atmc.net.
www.BrunswickForest.com
866-831-8289