PROGRESS IN PARK LANDING AT BRUNSWICK FOREST
September 11, 2012
Brunswick Forest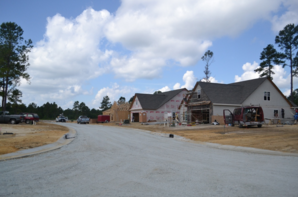 Park Landing, Brunswick Forest's newest coastal cottage neighborhood, has already found great success even in its infancy. Fourteen families have purchased in this unique neighborhood with cottage prices starting in the mid $200s.
Although the Park Landing is under construction and much progress is still taking place, this fall six new model homes will be unveiled thanks to the swift building teams of Bill Clark Homes and JordanBuilt Homes.
Park Landing is the twelfth neighborhood to be developed in the Brunswick Forest and much of its success can be attributed to the residents of our great community referring their friends and family to our latest addition.
Brunswick Forest has welcomed over 125 families this year. "We hope to end 2012 with a bang by welcoming over 200 new residents," says Jerry Helms, Director of Sales.
As progress continues in Park Landing, Brunswick Forest looks forward to a successful fall and we invite you to sneak peek our new neighborhood at the Brunswick Forest Open House Day on Saturday, September 29th from 11 am- 3 pm.
888.371.2434