Pretty as a Belle: The Azalea: Wilmington's Most Treasured Flower
April 9, 2021
ISWebmaster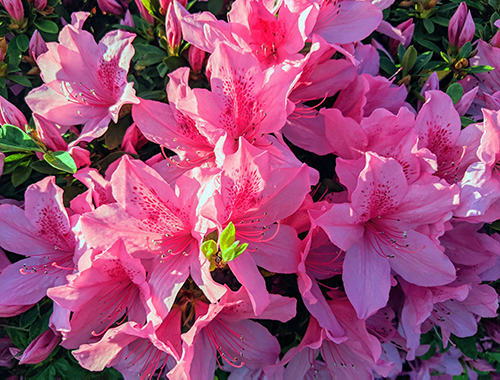 One of the most treasured pieces of nature in our local area is the azalea. Long considered to be one of the symbols of Southern culture in the United States, this gorgeous blossom has become synonymous with beauty, grace, and the Spring season.
Why is the azalea so treasured to residents of Wilmington, North Carolina? The azalea is rooted in centuries of tradition and intrigue. Known in scientific terms as a member of the Rhododendracae (Rhododendron) family, azaleas come in a variety of bright colors such as white, red, and most famously, pink. Azaleas are evergreen shrubs that thrive in spring weather but are also shade tolerant making them a strongly desired feature in home gardens. Originally grown in greenhouses, azaleas were first introduced to outdoor flower beds in the 1830s.
Naturally, the lovely azalea found its home here in the Cape Fear area of North Carolina too. Light-colored blooms are thought to be more jovial, while those that are darker in color have been said to represent passion or romance. Those that are white, represent the concepts of purity, restraint, and civility. Whatever the color, azaleas have been long-lasting symbols of abundance, elegance, wealth, and ways to fondly remember family. All of which can be considered qualities of the Southern style of living. So, in many ways, azaleas represent a wide variety of positive human emotions.
The greater Wilmington area loves the azalea so much, that we've even created a dedicated event honoring it every Spring. Over 300,000 spectators travel from far and wide to experience this wonderful tradition, becoming one of the largest events of its kind in the state of North Carolina. Though 2020 saw us taking a break from the tradition, the Azalea Festival is of course to take place in 2021! The event started officially on the 7th of April and will last all weekend up until this Sunday, April 11th. The Azalea Fest often involves lining the street with a wealth of food vendors, local craftspeople, artists, colorful parades, musical acts, and a lot more.
But how did it all come to be? The roots of the Azalea Fest go back to 1934 and got their start with a man named Dr. Houston Moore. A big fan of flowers and beautifying the local area, one of his first projects was to get the community to plant more flowers around Greenfield Lake – which was very un-kept. It took ten years, but the Wilmington Rotary Club helped to spearhead his cause to fruition. Afterward, Dr. Moore decided that there should be an annual festival to celebrate when flowers come into full bloom. The town agreed, and soon the first Azalea Festival was in the works, with the event officially being held in 1948. Even though the first festival was considered modest by today's standards, it still managed to attract a crowd of over 60,000 spectators.
Just like back then, the azalea continues to captivate us both as a flower, and as the center of a wonderful tradition that is a staple of our local heritage. If you want to see azaleas in full bloom this time of year, we suggest you look at Airlie Gardens. The azalea is just another wonderful aspect to love about the local area around our community of Brunswick Forest. And we feel that's a big part of why so many still desire to call Wilmington, "home".