Plans for Expansion at ILM Have Taken Wing
October 23, 2019
ISWebmaster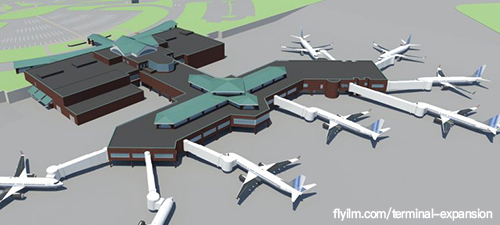 Wilmington, North Carolina, has become one of the epicenters of development in the Southeast. Thousands of people from a variety of places near and far are moving to the area every year, fueling growth in the Port City. One of the greatest things that residents have access to, at Brunswick Forest, is the convenience of being within close proximity to everything Wilmington has to offer. This includes the ease of air travel to major cities, as well as a host of international and regional connections! New York, Chicago, Atlanta and Charlotte are some of the destinations that Wilmington International Airport connects you to directly.
Known as ILM to locals, Wilmington International Airport currently supports five gates in a single terminal. The airport caters to major carriers including American Airlines, United and Delta. While ILM already allows for easy air travel out of Wilmington, the airport is taking its facilities to the next level! 2018 marked the beginning of ILM's Terminal Expansion Project. This project is a massive effort to grow the terminal area by 75%, effectively increasing to a total of 162,800 square-feet. Even more travelers will be able to pass to and from Wilmington at their leisure. The result will be a face-lifted facility that can accommodate more passengers efficiently, while still retaining a laid-back atmosphere.
The airport project is currently being broken into three phases, which will take place over the course of four years. Phase one of the terminal expansion has already taken place as of March 2019 and involves improvements to ILM's outbound bag room and screening equipment. This allows baggage to move more efficiently and decreases passengers waiting time. While the first phase of remodeling will be behind the scenes, the next phase of the project will be more visible.
The second phase will involve renovations and additions to the airport's ticket offices, enlarged kiosk areas and the color scheme will be refreshed for the check-in stations. New flooring will also be installed. Visitors to ILM can see these changes already taking place as of April 2019, and work is anticipated to finish up next summer. ILM is looking to keep its comfortable Southern charm while still accommodating for passenger growth! Extra space for a fourth potential airline and charter operators will also be coming to ILM.
The final and largest phase of the project will remodel the gate areas. This will provide four additional gates and an increase in square footage. Each gate will have a revamped waiting area, complete with an expanded concessions area! The final phase of expansions will begin late next year and end in late 2022.
If you thought traveling in and out of Wilmington was easy and accessible before, the ILM renovations will bring a whole new meaning to the word "convenience."