PIZZA, PASTA, & MUCH MORE!
December 21, 2012
Brunswick Forest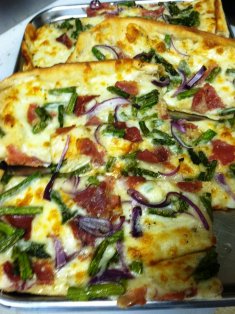 Garlic is in the air! Since Pizzetta's Pizzeria opened in The Villages at Brunswick Forest, delicious and savory smells have filled the air, making mouths water all over Leland, NC. Neighbors, friends and families have kept this one-of-a-kind pizzeria packed full of smiling faces and full stomachs since opening its doors in early December.
Pizzetta's is right at home in Brunswick Forest, especially since both owners' families live within the community! Sal and Michele Lucido and Vito and Lori Lucchese have the live, work, play concept that epitomizes Brunswick Forest down pat. . With well wishes and loads of support from the Brunswick Forest community and the Greater Leland area, Pizzetta's is sure to be at the top of everyone's lists when it comes to a good meal!
Pizzetta's Leland location is the second pizzeria for the restaurant after finding success at their Wilmington location, on Oleander Drive. Both restaurants offer a wide variety of options for diners wishing to fulfill their Italian appetites. Flavorful menu items like pasta with Bolognese sauce and tasteful pizza pies keep customers streaming in all day long! All recipes are homegrown and have been passed down from generation-to-generation in the Sicilian families of both owners'. Take your pick from their lineup of fresh soups, salads, calzones, pasta dishes, pizza by the pie or slice, and of course those delectable garlic knots! Stop into Pizzetta's at The Villages at Brunswick Forest today and enjoy the open kitchen atmosphere with a great Italian meal!
888.371.2434