Party Down by the Riverside – Fall Activities
October 2, 2019
ISWebmaster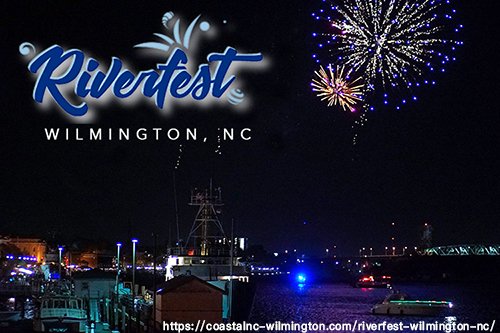 October is a month that is filled with a lot of excitement, and there's plenty of fun to be had around Brunswick Forest. From coastal cuisine to local arts and crafts, the greater Wilmington area has a lot to celebrate about. As the weather begins to change towards Autumn, locals will come together to celebrate the season with a variety of events. The largest of which, celebrates Cape Fear culture and the importance it has for the region!
Where: Historic Downtown Wilmington, 54-98 Water St.
When: October 5th – October 6th
Free to attend
The Wilmington Riverfest is celebrated annually on the first full weekend of October since its creation in 1979. Starting on Water Street and cascading all the way down to Cape Fear Community College, the Wilmington Riverfest attracts thousands of people every year and will be celebrating its 40th year. Visiting the downtown waterfront, festival goers will instantly be hit with the sound of bustling crowds and the smell of delicious food, wafting over the cobblestone streets. Dozens of food vendors will be lining the streets alongside the Cape Fear River. Locals and tourists alike will be enticed with treats like smoked jumbo turkey legs, funnel cakes, cotton candy, seafood and much more! Visitors can browse the dozens of arts and craft vendors looking to sell their products. Children will not feel left out, as there will be plenty to do at the dedicated children's play areas set up on the festival grounds. Local entertainment groups will be performing live all weekend, and Saturday night will play host to a dazzling display of fireworks! Riverfest will be taking place this weekend and is the perfect way to welcome in the Autumn season. One visit and you will see why Riverfest has been named one of the top seven North Carolina festivals!
Where: Downtown Wilmington
When: Continuing monthly through October 31st, 6:30pm and 8:30pm nightly
$13.00 for adults, $11.00 for seniors, students, and military. Children 6 and under are free
Prepare for a scare by uncovering the haunted history of Old Wilmington! Downtown Wilmington, North Carolina, dates to the colonial period and has more of its share of paranormal stories. This 90-minute family friendly event will have your hair standing on end, as you visit Wilmington's most haunted locations. Storytellers will also be sharing unexplained experiences that will chill you to the bone. It's the perfect activity for the month of October!
Where: Marina Grill, 18 Harnett St.
When: October 26, Session 1: 11:30am-3:30pm, Session 2: 5:00pm-9:00pm
Tickets begin at $59; Designated Driver are $25, VIP tickets are $82 (VIP tickets include special entry, food, specialty beers, separate bathrooms and access to the brewer's tent)
It's five o' clock somewhere in the world, and Lighthouse Beer and Wine invites you to explore the world of hops, grapes and grain this Autumn season! This is the place to be for any true beverage enthusiast, as you'll be trying both brews and wines from over 100 craft breweries and wineries. The event will be divided into two main tasting sessions. Live music will also be playing as you tantalize your palate with great food and a variety of alcoholic beverages. Each ticket sold even comes with its own sampling glass! Buy your tickets early with this one, because this event sells out quick!
Autumn in the Cape Fear region is a great time of year to get out and explore the area, and Brunswick Forest recommends making some of these events a must-do on your bucket list! You can find more Autumn activities here: http://www.whatsonwilmington.com/calendar.php