Parade of Homes in Brunswick Forest
April 24, 2019
ISWebmaster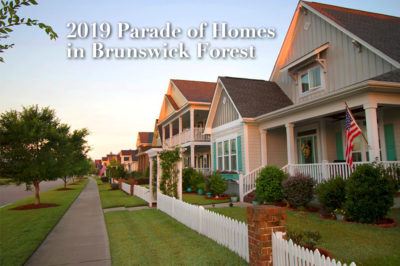 There are so many wonderful homes here at Brunswick Forest, it's easy to get caught up in all the options you have available. For the month of May, we have a lineup of some of the finest floorplans available, in Southeastern North Carolina. It's the renowned Parade of Homes, and you're invited to tour eight amazing new property releases. See what amazing lifestyles await you at Brunswick Forest when you choose to live Coastal by Nature®.
"Participating in the Wilmington Parade is an important annual event for us. We look forward to showcasing our community, builders, homes and amenities," states VP of sales Jerry Helms. Brunswick Forest is ecstatic to open models to guests in several neighborhoods throughout our community, especially the recently released section of Cape Fear National. Builder representatives will be on-site to answer any questions you may have about these fabulous homes.
Starting the parade off is the gorgeous Pale Oak model home built by Bell Custom Homes. This model spotlights a modern twist on the classic farmhouse style of architecture. Set amongst the championship golf course at Cape Fear National, The Pale Oak provides aspiring homeowners with a glimpse into an open-floorplan with rich details! Custom ceiling beams, full shiplap, wood-burning fireplace, LED lighting and custom tiles are just some of the great features this home has to offer. With three bedrooms, four bathrooms and 2,828 square-feet of space, such a great offering deserves a closer look. This model is located at 1435 Cape Fear National Drive.
Nestled in Brunswick Forest's Tennyson Village neighborhood, The Linville model home by Trusst Builder Group strikes a good balance between convenience and spacious living. It is first floor living at its best, showing that homeowners don't have to trade luxury for accommodation. An oversized screened in porch and flex room adds extra recreational space to this home. Totaling three bedrooms and four bathrooms, throughout the 2,361 square-feet, this model will make you feel like you've truly arrived home. This model is located at 3845 Mapleville Lane.
The Grayson III is another quality model home being touted by Trusst Builder Group this year. Like the Linville model, the Grayson III is spacious on the inside with an open living area. This home has a corner wing that houses a magnificent study area, and the master suite is lavishly equipped. Homebuyers who are looking to experience a little outdoor living won't be disappointed either. There's a screened porch that allows you take in the beauty of the natural area. Taking up an impressive 2,471 square-feet, The Grayson III model sports three bedrooms and three bathrooms, and is located at 6361 Saxon Meadow Drive.
West-Indies inspired architecture provides a very coastal and custom feel to homebuyers; this is something that The Carot Bay model presented by Kent Homes offers in spades. Located in The Leewards neighborhood at 1244 N. Sleepy Oak Lane, this two-bedroom and two-bathroom home is truly opulent. There's a spacious kitchen which opens to a wonderful dining and living area, as well as a screened loggia. Adjacent to the loggia is a great patio, perfect for relaxing outdoors. There's an incredible master suite complete with hers and his features. Guests can make themselves at home in the guest and bonus rooms. Altogether, The Carot Bay caps out at 1,976 square-feet.
Legacy Homes by Bill Clark was generous with the detailed finishes when they built The Ellis model, in Cypress Pointe. You can look forward to having ten-foot-high ceilings and eight-foot-high doors on the first floor of this home. The kitchen area is state-of-the-art, and visitors will find other features, like the private study, very charming indeed. Finally, you have a lovely gas fireplace to center your home and gatherings. A great package covering 2,500 square-feet, you can find this model at 1372 Cross Water Circle.
The Sapphire, by Logan Homes, is a true gem that is part of the new releases in Cape Fear National. Homes in this neighborhood are completed with both golf and water views. Sweeping front porches, a covered loft on the second floor and a framed in fireplace make The Sapphire model highly coveted. If you're looking to experience the epitome of coastal living, look no further than this brilliant offering by Logan Homes. Measuring a sizeable 3,821 square-feet, this home contains four bedrooms and four bathrooms. Come take a peek over at 5147 Creswell Circle.
PBC Design + Build Showcases has their own offering for Cape Fear National: The Sauthier II. For those of you who love golf, you'll surely love how this 2,736 square-foot home gives you the opportunity to live your life right on the course. A bright kitchen acts as the central focal point, while large windows allow you to have a great view of one of the best courses in the Southeast. Located at 3042 Catesville Circle, this three-bedroom three-bathroom home will knock you off your feet.
Rounding out the homes featured at Cape Fear National, is The Jarrett Bay by Fogleman Associates. Sporting a kitchen with a large breakfast area, screened lanai, outdoor patio and grand entry porch, this masterfully built home is sure to impress. The central great room has built-in shelving and a nice fireplace for that custom touch. You'll even get to see an upstairs flex room, which adds to the spacious nature of this model. Topping out at 3,234 square-feet, this home offers a total of three bedrooms and two and a half bathrooms. Located at 3038 Catesville Circle, The Jarett Bay is a must see.
This year's Parade of Homes will be taking place from April 27th – 28th, and from May 4th – 5th. From 12pm until 5pm, the public is invited to come and visit all of Brunswick Forest's spectacular models. Everything from low-maintenance homes to more exclusive, custom homes will be available to tour. Prices for these homes range from the $300s to $800s. Live coastal and tour some of the finest model homes around. Feel free to swing by our Welcome Center and pick up a map of the homes available to visit!