ORGANIZE IN STYLE WITH BRUNSWICK FOREST'S ELEGANT MASTER CLOSETS
April 4, 2015
Brunswick Forest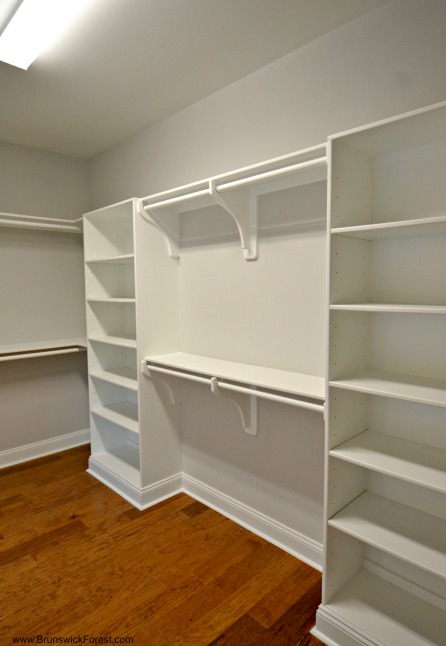 When it comes to master bedroom closets, simple walk-in closets just don't cut it anymore. Homeowners want not just space, but a closet system that helps them keep all of their things neat and organized. At Brunswick Forest, we offer master bedroom suites that include stylish and spacious bedrooms, luxurious master bathrooms with tile showers and soaking tubs as well as spacious closets for storing all of your precious things.
MOVING BEYOND THE WALK-IN CLOSET
Today's master bedroom closet is more than just a large open storage space. Homeowners desire master bedroom closets that are stylish as well as functional. It is not uncommon to find closets adorned with accent lighting, floor-to-ceiling mirrors, ottomans and area rugs.
HIS AND HERS CLOSET SPACE
Many homeowners are opting for dual master bedroom closets instead of one large closet space. Like dual master bathroom vanities, his and hers master closet space provides ample storage without a need for sharing space.
OPEN SHELVING FOR ADDED STORAGE AND ORGANIZATION
Many of the master bedroom closets at Brunswick Forest feature not just space for hanging clothes, but also lots of open shelving to make organizing shoes and accessories so much easier.
CUSTOM CLOSET CABINETRY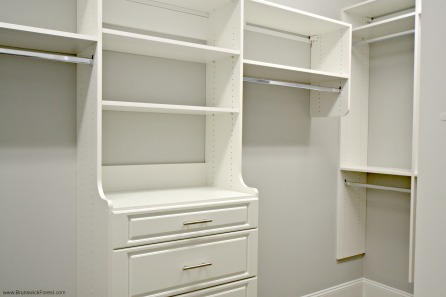 Another new trend in master bedroom closets is the inclusion of cabinet drawers for built-in storage and easy organization.
The little details like master closet "extras" are just a few of the things that set Brunswick Forest's homes apart! We pride ourselves on providing our homeowners with the latest in home design trends and a custom lifestyle.
888.371.2434
www.BrunswickForest.com