On the Horizon: Our November Home Features – Coming Soon!
November 15, 2021
ISWebmaster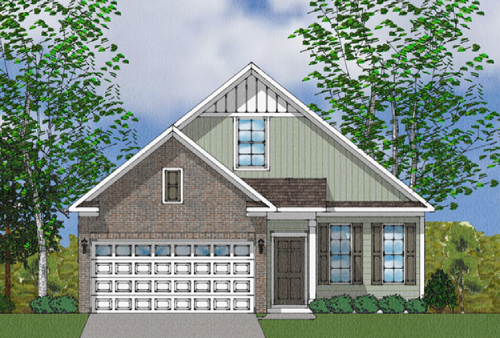 Our sales team has had their hands full in offering aspiring homeowners and dream home seekers some amazing options throughout 2021. Brunswick Forest is excited about the progress and anticipating even more phenomenal homes on the way. If you're aching to get excited about some new homes, we have some incredible models that are coming soon! This includes the Jasmine A, Coastal Crown, and Jamaica Bay.
Jasmine A
Location: Park West
Bed: Three | Bath: Three
Square footage: 1,702 square-feet
Price: $407,489
Located at 4962 Glen Garden Circle, the Jasmine A is designed and built by the experienced professionals at Mungo Homes. Nicely appointed with lots of versatility, the Jasmine A is a stunning piece of architectural craftsmanship. From the moment you step on the front porch and walk towards the front door, you'll realize this model is something special. As you enter, you will already see that the Jasmine A has plenty of room inside that can be used for a variety of lifestyle choices. A spacious family room leads to an interconnected dining room and kitchen, making for a convenient living space.
With built-in shelving, and a gas fireplace, there's no doubt this home is an attractive place to entertain guests. You'll find the main living quarters will have a lot of natural light entering through its four large windows. The kitchen includes flat-panel cabinets, garbage disposal, tile backsplash, recessed can lighting, and stainless-steel appliances. Most stunning though, is the size of the master bedroom, which features a spa-style bathroom, and massive walk-in closet. You even have the option of a second floor living area complete with another full bath area, bedroom, more storage, or perfect for hosting overnight guests. A screened-in porch outside helps to complete this attractive ensemble of tasteful features.
The Coastal Crown
Location: The Lakes
Bed: Four | Bath: Three
Square Footage: 2,851
Price: $642,900
The Coastal Crown features a clean design and an open floor plan. Located at 5185 Barcroft Lake Drive, this Logan Homes floorplan is beautifully designed and offers extra space for those who desire it. Enter through a bright and airy foyer that opens into a dining room and a great room. The kitchen features a beautiful island, perfect for entertaining and hosting. Sleek tile backsplash and stainless-steel appliances make this kitchen attractive and low maintenance, which is perfect for those who enjoy cooking.
The master suite offers a private and peaceful place of relaxation, featuring generous walk-in closets and a master bath complete with dual sinks for plenty of space. Two additional bedrooms in the front of the house and additional space upstairs offer plenty of space for guests. This floorplan features a clean design and attention to detail meeting perfectly together to create a gorgeous home that leaves lasting impression.
Jamaica Bay (Available Soon)
Location: Cape Fear National
Bed: Four | Bath: Three and a Half
Square Footage: 3,142
Price: Coming Soon
The Jamaica Bay is sure to captivate you at first sight. Custom built by the professional craftsmen at Fogleman Homes, the home is located on 4347 Cobleskill Drive in Cape Fear National, giving it the true golf estate quality. Large, luxurious, and well-equipped, this is one model that has everything you need in a home and then some. The first thing to note about Jamaica Bay is its size, there's a lot of open rooms that blend seamlessly from one room into the next.
Coffered ceilings, dark stained wood floors, a gas fireplace, and built-in wooden shelving makes this home shine amongst its competitors. The kitchen area is complete with a tile backsplash for easy cleaning and sleek looks. All the essentials are here, such as a high-quality oven, gas-fired stove, microwave, and dishwasher. There are plenty of windows to allow for a great view of the nature that surrounds this home, and naturally illuminate the floorplan during the day. It feels like form follows function here in the Jamaica Bay model.
The stately feel for this home continues as you make your way to the master bedroom. The master suite allows for plenty of space to move freely and a lot of options for you to organize the room as you see fit. When you see the master bath, you'll again realize the scope and luxury that the Jamaica Bay provides its tenants. With tile backsplashes, tile floors, tile shower, built-in shelving, double sinks, and a walk-in closet that's cavernous for plenty of storage, the Jamaica Bay is its own little slice of paradise The second floor is just as spacious and versatile as the rest of the home, allowing for more storage, bedding, or office space.
If you have a desire to find your coastal dream home before the end of the year, we highly encourage looking at these upcoming models. You can find out more by contacting our team at 833-497-1001.